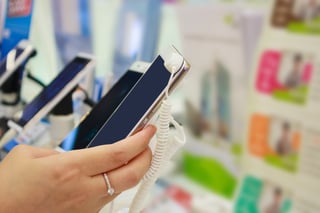 Custom acrylic fabricationis more popular than ever for retail display applications. It's surprisingly versatile, it's affordable, and it can give your store and merchandise a distinctive look and feel. Because you can do almost anything with acrylic, you might think of it for "one-time, one-off" pieces, but there are so many times when custom acrylic fabrication offers the ideal solution for store fixtures and displays.
Why choose acrylic for custom fabrication? It's strong, durable, and so amazingly adaptable it can morph into more looks than a chameleon.
So when should you use custom acrylic fabrication?
Let us count the ways:
When you want a unified appearance for all your store fixtures. Acrylic lends itself nicely to every type of traditional retail display unit, whether it sits on the floor, mounts on the wall, or sits on a counter — and whether it's fixed or portable.
When you want a special prop or fixture to serve as the centerpiece of a "wow" window display.
When you want to create an in-store atmosphere that says "this store has style!" – whether your style is hot, cool, elegant, or ultra-modern. Like your favorite shirt, acrylic goes with everything. You can dress it down for ultimate see-through simplicity, or dress it up with whimsical colors and shapes.
When you want a lightweight kiosk. Make it portable by adding wheels. Or interactive with product videos or a touchscreen.
When you want to brand your fixtures unmistakably, using your official colors and/or logo. Whether you do it boldly or subtly, visual branding reinforces your store's identity.
When you want mannequins that don't look like, well, the usual mannequins.
When you want to enhance visual merchandising by giving certain displays extra eye-catching cachet. For instance, you might draw attention to featured merchandise up front, or draw the eye to a display toward the back of your store by constructing some lighted boxes. (By the way, acrylic fixtures are the perfect companions to LED lighting.)
When you want to use interesting-yet-practical fixtures that help shoppers easily identify sections or departments within your store.
When you need extra security to protect high-value or fragile merchandise. Acrylic looks like glass, but it's much tougher.
When you need surfaces that are scratch-resistant or won't show fingerprints.
When you want signage that pops.
Customized acrylic is, indeed, a top choice for creating one-of-a-kind pieces. But as you can see, its uses are almost endless. So it can also be your go-to material for major fixtures, point-of-purchase displays, and decorative props.
Here at Palmer Retail Solutions we have been customizing acrylic for retail applications for decades. We've done it all, more than once. We're happy to share our insight to help you decide the right times – and places – to use custom acrylic fabrication most effectively in your store.