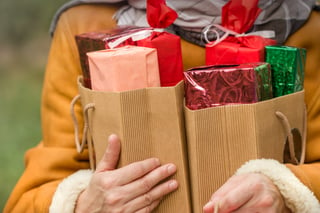 You've ordered the hottest – and the coolest – merchandise for your retail store's holiday season. Your custom store fixtures are in position – poised to entice shoppers through your door and lead them through your wondrous selection of goods. But that's not enough to assure better-than-ever sales. You still need fabulous holiday displays and finishing touches.
Use these ideas to transform your store into an irresistible destination for holiday shoppers:
Pick a holiday theme – a favorite character or story, or simply traditional wintery motifs such as trees, stars, and snowflakes. Make it fun but appropriate for your type of merchandise and clientele. It should set the stage, not upstage.
Use the colors of the holidays – red, green, blue, silver, gold, and white. And invest in quality props you can use next year, too (in new ways, of course).
Incorporate thematic "fixtures" for displays – sleighs of any size, a red wagon, huge stockings, etc.
Use colorful wrapping paper to turn cabinets (or your cash wrap) into giant presents.
Bring in additional showcases. Security is a real challenge during the holidays, and showcases (locking or not) combine added safety with excellent visibility for jewelry or any smaller or higher-end items.
Use showcases near your entrance as "teasers" for popular items located toward the back, and use them as "show and tell" display counters where salespeople can interact personally with customers.
Whatever types of custom store fixtures you have, adding slatwalls can give them extra sales shine.
Feature displays of merchandise in seasonal colors.
If you sell holiday-specific items, intermingle those displays with other merchandise. That spreads your holiday look throughout the store, and helps lead shoppers from one area to another.
Impulse items are crucial to boost holiday sales, so give shoppers multiple opportunities to easily "discover" them. Offer festive bins of random novelties and stocking-stuffers. Display add-ons and accessories along with higher end merchandise, to cross-sell and upsell.
Turn a table or counter near your cash wrap into a gift wrap station. Busy shoppers will love you. Since you're busy, too, invite members of a local high school club or civic group to do the work for a small fee. You'll create a memorable experience and loads of goodwill all around.
Strategically place lighting for a holiday-perfect ambiance and to highlight specific displays and items. Edge shelves with tiny LED lights.
Signage is your silent sales force. Use standard or digital signs to direct traffic and point out "best buys." Add video or interactive displays. They also augment your human staff, add personalized convenience for shoppers, and liven up your interior.
The rest of this year will go by in a blur – Thanksgiving, Black Friday, Cyber Monday … and the next thing you know it's New Year's and you're too tired to celebrate. But celebrate you will, because your 2015 holiday season was a monumental success, thanks to smart merchandising with custom store fixtures decked out for the holidays.
Palmer Retail Solutions strives to offer our clients the absolute best combination of innovation, quality, service, and value for our diversified custom store fixtures and merchandising displays. For more information about our designs, retail fixtures, cash wraps, kiosks, or point of purchase displays, visit our website at: http://www.palmerretailsolutions.com.