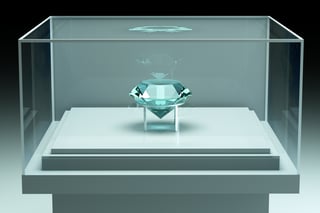 Whether you're talking about major display fixtures or props or just helping out a worthwhile non-profit with a donation box, custom acrylic fabrication can transform your store. It's amazing what you can do, even with something as seemingly simple as an acrylic box display.

We usually think of a box as a stand-alone container. But a display cabinet is also a box, so you can combine acrylic with any other material to create a unique look. Acrylic's clean lines blend beautifully with any store décor or type of merchandise. That's one of the reasons acrylic is becoming the material of choice for branding stores and displays.
Acrylic is Versatile
Anything you can do with glass, you can do with acrylic, which is lighter, stronger, and less expensive. Plus, acrylic does things glass cannot. The material is so malleable, you can create any angular, curved, or 3D round shape you want. Who says boxes have to be square?
Acrylic is the obvious choice when you want a box that's perfectly clear. Highlight branded products, allowing the packaging to speak for itself. Or intrigue shoppers with a bin filled with small but colorful goodies they'll have to draw closer to check out.
And speaking of colors, you can fashion an acrylic box display from translucent or opaque material or in any color of the rainbow. Here are just a baker's dozen ideas for enhancing your store with acrylic box displays:
13 Great Ideas for Acrylic Box Displays
Create "boxes" that are free-standing or wall-mounted, mobile with wheels, or easily portable. As long as they have a coordinated look, you can mix and match them almost endlessly. Instead of a single acrylic box display, you have a wealth of options.


Think outside the box for show-stopping eye appeal. For example, wall-mounted boxes don't have to be flat or shallow.


Display decorative pieces.


Highlight featured items, perhaps on pedestals in key locations within your store.


Protect breakables from harm.


Protect valuable collectibles and jewelry from theft. Add lids and doors for easy access, or locks if needed.


Display your featured rings in their own individual acrylic jewelry boxes.


Protect edibles from exposure, whether they're prepared salads or custom-made chocolates.


Multi-tiered risers are popular for displaying some items. Group multi-sized acrylic boxes instead, stacking various sizes and shapes to give your display eye-catching dimension.


Acrylic boxes that rotate hold more merchandise with minimal floor or counter space. They invite engagement as customers spin them around to get a better look.


Use cubes to display stacked T-shirts or sweaters. Set the cubes upright and use them as bins.


Hook small acrylic boxes to slatwall or gridwall to display accessories, product information brochures, coupons, etc.


Create shadow boxes – larger-than-life ones for a fetching window display, smaller versions to set off in-store displays.
And don't forget the lights, because LEDs and acrylic are made for one another. Wrap boxes in tiny lights, or stuff them with lights to create a sparkling acrylic box display. Once your creative juices start flowing, you'll realize there's nothing more versatile than acrylic when it comes to branding your store and designing irresistible displays.