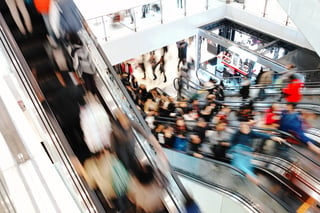 Kiosk carts have been around for years, so you can learn from the experience of entrepreneurs who have gone before you. Among other advantages, that insight can help you find great products for kiosk carts. For instance, here are some proven winners:
14 Great Products for Kiosk Carts
Edibles
Toys (focus on a single age group)
Jewelry
Personalized items such as mugs, T-shirts, hats or jewelry
Branded beauty products such as cosmetics, bath items, lotions
Fragrances
Gifts (seasonal or year round)
Sunglasses and/or fun reading glasses
Newsstand products (candy, magazines, newspapers, books)
Handbags (perhaps combined with totes and computer bags)
Fashion accessories (scarves, socks, etc.)
Personal services such as custom temporary tattoos or make-up application
Something brand new to your market area - kiosk carts are great for testing new products, but remember the test could fail, in which case you'll have to start over with your product search
Additional Considerations for Kiosk Carts
Zeroing in on just the right merchandise for kiosk carts is only one important piece of the sales success puzzle. Here are a few tips to help you choose great products and make the most of them:
Choose a single item, or multiple items that reflect a common theme. A random selection of things that don't relate to one another will confuse your potential customer. Because of their small size and position among shoppers on the move, kiosk carts must quickly and clearly tell people what you sell. So once you've chosen your product line, you'll want to brand your kiosk accordingly.
Even with just one or a few related products, kiosk carts really shine if they offer deep selection. Think variations on a style, with a wide range of colors or materials. Deep selection sets your kiosk apart from traditional stores, which typically sell many different things but not many choices of any one product.
Pick something that is not available in the mall's in-line stores or at another kiosk within the mall. Even better, look for a product not available elsewhere in town. Direct competition could hurt your business (and may be against mall regulations). However, it will help boost your sales if you can be located near a major store that draws the customers you also want.
You have to consider prospective products and prospective locations together. The greatest products ever won't sell at the wrong mall. Carefully research details such as foot traffic, demographics, etc.
Pricing matters, too. Generally, items sold at kiosk carts are lower priced because they are impulse purchases. If you offer a range of items, though, you can offer a wider range of prices, too. Again, the range must match your mall's demographics.