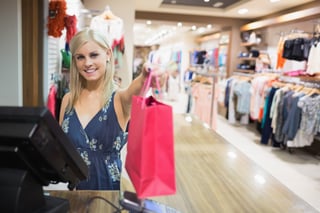 The cash wrap in your retail store has a dual personality. On one hand, it's a key work space for your sales associates. On the other, it has the power to generate additional sales. In both respects, your cash wrap must provide an exceptional final touch for each customer's shopping experience. The frosting on the cake, if you will. The key is to find the perfect balance between efficiency and merchandising.
Efficiency keeps checkouts flowing smoothly.
Put your cash wrap within sight of your entrance — but to the left and back a little distance. You'll be able to see and greet incoming shoppers while assisting those completing their purchases.
Eliminate clutter so the cash wrap looks tidy and welcoming.
Provide enough counter space for your staff to work and for customers to comfortably set their items, purses, etc.
These simple tips will improve your checkout process, but — more importantly — they contribute to your customer's total shopping experience. Leave them with a positive impression, and they'll be back.
Clever merchandising prompts impulse buys.
Merchandising is all about communication, and your cash wrap "speaks" to customers in multiple ways.
1. Communicate with displays that sell.
Place a few carefully-selected impulse items, accessories, or samples next to your cash wrap (or on the counter, if there is plenty of room). Choose a combination of must-haves and tempting surprises, preferably items that invite handling. Lighting is especially important here, because you need both task lighting and accent lighting for merchandise on display.
2. Communicate with signage that informs shoppers.
Let them know your return policy, but focus on things that will induce repeat shopping such as your loyalty program, upcoming events or even a timely news item about your store. Reading your signs or signing up for your email list also keep people occupied while in line, reducing perceived wait time. That's an important experience-booster.
3. Communicate with the spoken word.
Your sales associate standing behind the cash wrap is "merchandising" with every customer conversation. Reinforcing key signage messages. Inviting shoppers to take note of last-minute purchasing opportunities. "One of these scarves would look beautiful this sweater you've chosen." Or, "Try one of these new chocolates we just got in!"
4. Communicate with your design.
Your cash wrap is the most prominent fixture in your store, so it should communicate your store brand and add to your overall décor. Need some inspiration? This Pinterest board should help, with both merchandising and functional ideas. And if you need even more inspiration, consider what could happen to your bottom line each year if your cash wrap inspired just $5 more in sales from each customer.