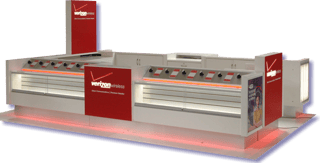 There are a million things you need to do if you plan to open a mall kiosk. For starters, you have to find the right location and select the right products to sell, but your kiosk won't be the sales dynamo you're hoping for unless you choose the right kiosk manufacturer.
You'll want to work with a manufacturer that has worked with mall owners/management and understands the industry. Not just a company that says, "we can do that," but mall experts. Before investing in any manufacturer's products, ask them these questions:
1. How can you help me with my site plan and kiosk design?
What if I'm not sure what I want? Your kiosk manufacturer should proactively share alternatives and advice with you. One of the key benefits of dealing with a highly experienced design/build company is the chance to learn from other people's mistakes and discover cool new ideas you can adapt for your own kiosk.
2. What process do you use to design and build my kiosk?
How will I be involved? What's the timeline? Negotiating the best deal with your desired property takes "mall savvy." You'll save time and headaches, and avoid costly mistakes, by choosing a kiosk manufacturer that knows malls inside and out.
This part of the process is so important that our Palmer Retail Solutions team works directly with mall managers on behalf of our clients. Nothing is overlooked, and your kiosk project can move quickly and smoothly toward completion.
3. What kind of kiosks have you designed and built in the past?
Look for a manufacturer that creates exactly what you want and can afford. Don't settle for something that doesn't seem quite right for you, just because it's their specialty. Pick a company that can customize standard fixtures or custom build your kiosk from scratch.
4. What will it cost?
Does that include installation? Are there any other unlisted charges?
5. Ask for references, and talk to them.
Ask about their entire experience working with this manufacturer as well as how the kiosk is working out for them. Is their kiosk convenient for customers and staff to use? Does it display products as well as they had envisioned? Any company can say, "we can do that," but it's smart to confirm their claims.
An expert will be your best friend during this process
You will benefit most from working with them by learning everything you can about the process. That way you'll understand what they're talking about – or why they're asking you certain questions. And you can have more meaningful discussions so you can make the best possible decisions.
Our booklet "Palmer's Guide to Building a Retail Kiosk" explains the basics. It's an easy read, but you'll probably want to download it for future reference. And we're always available to answer your questions about mall kiosks, so give us a call and let's talk. We'd love to help you design and build your next – or your first – mall kiosk.