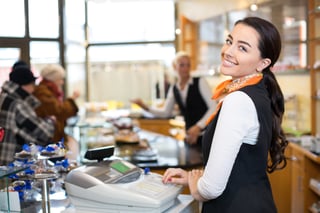 Point of purchase displays used to be something of an afterthought for retailers – a chance to sell a few little extras to customers as they were in the process of paying for their purchases. But POP displays have come into their own in recent years as a savvy merchandising tactic.
While they are still king of the checkout counter, POP displays can be tremendously effective throughout your store. Properly designed and placed, they have everything it takes to feed a growing trend across retail – impulse buying. Experts say unplanned purchases now account for 40% or more of retail sales.
There are lots of ways to use POP displays. They can be tabletop style, free-standing, or shelf-mounted. They can be quite small – a rotating display of earrings next to a boutique's cash register. Or quite large, like the four-sided walk-around displays now common in grocery stores. That versatility in shapes and sizes allows you to take advantage of multiple points of purchase, not only the final sales counter.
1. Customer Focus
You need only three seconds to make an impression on a shopper. So it's vital to make sure each of your merchandising displays speaks volumes, quickly. Choose products that offer real value, whether you're promoting new merchandise or advertising a sale.
2. Location
A cleverly-positioned POP display can boost up-sales. Think table tents that promote drinks and desserts in a restaurant. They can cross-sell, by offering accessories or related products. Think colorful covers next to a wireless phone display. They can introduce new products. Think shelf-hanging units in an auto parts or grocery store, filled with samples. (Or a manned sampling station.)
3. Design
POP displays can be fun, fancy or simple. But they have to stand out visually, especially in stores that stock large numbers of SKUs. Experts recommend using bright colors and interesting shapes to draw attention, but be sure the look of your display reflects the look of the product or its packaging, so the overall result is consistent and harmonious.
For many types of products, manufacturers themselves are creating branded "turnkey" displays retailers can use. The key here is to make sure you aren't devoting more space to the unit than makes sales sense.
4. Technology
Adding electronic signage, video, or touchscreen capability creates an eye-catching, interactive display that educates customers while highlighting merchandise. You can also integrate your display with your website or SMS messaging.
5. Strategic Intent
You can devise any number of amazing ways to use POP displays in your store. But they won't attract shoppers and drive sales as you hope unless you first create a point of purchase strategy. Without a plan that takes into account your type of store, customers, business goals, and physical space, you might as well simply plop some small items on your cash wrap counter and hope people notice. And we all know you can do better than that!