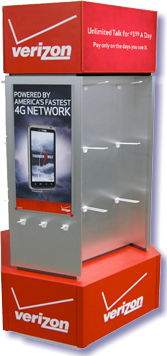 When starting a business, it's important that your space doesn't look "thrown together." You want to look professional, whether your space is a dental office, business office, or retail store. Most small businesses have only one location, so you get only one chance to make a lasting impression. You have to hit the nail on the head, to build a professional reputation for your brand.
How custom store fixtures can help
You've put a lot of thought into selecting the perfect product lines, hiring great sales associates, and planning targeted marketing campaigns. But a store that doesn't speak clearly to customers will confuse them instead. Custom store fixtures pull it all together, enabling you to create a distinctive, appealing atmosphere that sets you apart from competitors and inspires shoppers to investigate your store thoroughly.
Especially if you're just starting out, investing in custom store fixtures may feel like an unnecessary expense. But rest assured you'll see a higher return on that investment than you'll get from grabbing up whatever you can find on the cheap. Remember, fixtures don't just hold your merchandise: They brand your store. You need fixtures that send exactly the right message.
In fact, the fixtures you choose affect your customer's entire shopping experience. They do that literally and psychologically, helping shoppers easily find what they're looking for and leading them to tempting items they hadn't even considered.
How can your small business benefit?
Custom fixtures fit your store in size, shape, and scale. In fact, you can have any shape you want, not only standard rectangles, rounds, and shelves. You can (and should) integrate your name, logo, and brand-specific colors. Customization creates a cohesive, consistently branded atmosphere you cannot achieve with anonymous ready-made fixtures.
You have complete freedom to choose and use materials in unique ways. You can create fixtures that complement and/or contrast with merchandise, making it easier to design eye-catching displays.
Professional-looking fixtures and overall ambiance increase the perceived value of your merchandise, no matter what you sell.
These days, customers are looking for tech-based options to simplify and enhance their in-store experiences. With custom store fixtures, you can build in touchscreens and digital posters and signage, video displays and self-help kiosks wherever you want them. Trying to add these tools after the fact can result in a cluttered look that puts off customers rather than pleasing them.
In short, custom store fixtures boost sales because they are customer-centric. They set the stage for an enticing, fruitful, and memorable shopping experience in your store. That brings customers back, and they'll bring their friends.
Achieving custom design that works for you
There's no reason to feel hesitant about custom store fixtures just because you aren't a design engineer. Our expert team at Palmer Retail Solutions is ready to assist. We have decades of experience creating custom-tailored solutions that will provide the versatility you need and the experience your customers seek, with branding that makes a distinctive, professional statement.