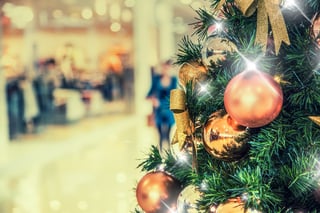 Retail competition is fierce this time of year. Shoppers are out in force, and they're on a mission, looking for the season's must-haves, but also new ideas to take their homes, themselves and their gift-giving to a new level. Your holiday store layout has to grab their attention, make it easy to find items already on their list, and entice them to pick up and buy more than they intended.
That's a tall order, but this is the sales season that will determine your bottom line for 2015. Your store layout has to be nothing short of awesome. Here are some awesome examples to help you.
1. Layout that sells starts outside, with your window.
If it isn't eye-catching, the throngs of shoppers will rush on by. No matter how inventive your window display, make sure it gives potential customers a tantalizing taste of what they'll find inside.
2. The right layout leads shoppers past all the goodies.
Review the principles of retail store design to be sure your fixtures are arranged in a pattern that promotes your merchandise to best advantage and guides your customers smoothly on their journey around your store. The most successful floor plan depends on what you sell, your clientele, and the size and shape of your store — whether you're a grocer, a clothing boutique or a jeweler.
3. Keep your entry zone clear of merchandise.
This isn't so easy if your store is tiny, but studies show shoppers zip right past items that are displayed just inside the entrance. Instead, let customers use this "decompression zone" to get their bearings. Studies show they'll head to the right next, so display some of your hottest items there.
4. Maintain an open vista.
Lower profile displays discourage shoplifting while ensuring shoppers can get a full view of what you have available and how to quickly get to their favorite departments.
5. Promote interaction with merchandise.
Hands-on sells. Studies show a significant percentage of shoppers who pick up and examine items are more likely to buy. Make that easier for customers, with a holiday store layout that features approachable displays rather than bulky countertop fixtures that create visual and psychological barriers.
6. Plan for extra end caps.
End caps are top performers when it comes to selling fresh new merchandise as well as discounted items. Store layouts with shelving units naturally lend themselves to end cap placements, but every store can and should create end caps, to promote holiday items and further encourage browsing. Use standard fixtures, mannequins, or free-form arrangements. Using bins and baskets to hold small items makes great use of lower level space and invites customers to reach in to choose exactly the item they want.
7. Avoid the temptation to over-stuff your store.
You want to display enough merchandise to create a look of plentiful variety, but beware the "butt-brush" effect. Shoppers need enough personal space to browse comfortably. An awesome store layout encourages people to stop and inspect items without creating traffic jams in the aisles.
Palmer Retail Solutions strives to offer our clients the absolute best combination of innovation, quality, service, and value for our diversified custom store fixtures and merchandising displays. For more information about our designs, retail fixtures, cash wraps, kiosks, or point of purchase displays, visit our website at: http://www.palmerretailsolutions.com.