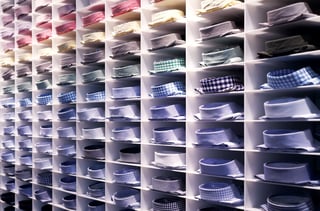 What inspires customers to buy? Understanding the psychology of shopping helps you create visual displays that not only grab attention but encourage customer purchases. Sales are what keep your store in business. And research shows that improving your displays can increase sales several times over.
The key is to follow the basic principles of visual merchandising, but use them creatively, to spark your customers' imaginations and help them connect with specific merchandise. Some types of products, especially smaller essentials and impulse items, need highly visible displays that offer grab-and-go convenience. In general, though, you'll want to entice customers with bold colors and visual displays that tell a story by grouping complementary items together.
Here are some examples that may help spark your imagination:
Window displays sell your store as a brand, but they can also promote specific items or announce a sale event. There's no rule that says you have to put a display inside your windows. This store turned its windows and exterior walls into a fun, inviting façade. Could you resist stepping inside? After all, if the outside is this cool, just imagine what's in-store!
In the window or on the back wall, visual displays like this are purely intriguing. Shoppers can't help but get closer to see what's in the display – in this case items that promote multiple store departments.
Don't just stack items in boring piles on standard shelves or a table. Create a wall-size display like this one that does it all – attracts customers with color and shape, displays a variety of complementary products, and makes it easy for customers to visualize creating an entire "look" at home.
Bloomingdale's shows us a completely different way to make the most of a wall, using various sized picture frames to "frame" each merchandise component, along with short-but-sweet "title card" signs.
This example follows the pyramid principle, using a central stack of merchandise as the focal point. The stack is asymmetrical, a visual effect that catches (and pleases) the eye. From there, the eye travels down to the table settings at each end, where customers instantly see how buying all the components displayed can create an inviting, sophisticated dinner table in their home. Using a real table as the foundational fixture and adding the runner and silverware as props complete the picture in the customer's mind.
You don't need a traditional mannequin to cleverly (and enticingly) tell your "outfit" story. In this display, everything the customer needs is already "packed up" and ready to go, encouraging them to buy multiple complementary items.
Anything digital, especially if it moves, instantly connects with today's tech-savvy shoppers. Using video, digital posters, and interactive kiosks will spice up your displays and boost customer engagement – the first step toward purchasing.
Focus on creating visual displays that let your store's personality shine through. That will not only encourage customer purchases, it will ensure a unique, memorable in-store experience – the kind that keeps customers coming back to purchase again.