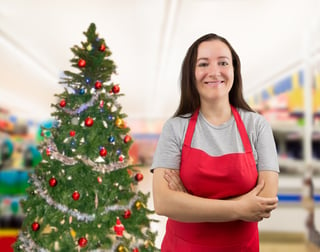 Your employees are a reflection of your business. When they're upbeat – friendly, helpful and efficient – shoppers just naturally want to spend more time in your store. But the holiday season can take its toll on even the best of us. These 7 tips will help you maintain happy employees throughout the holiday season.
1. Lead by example
You can't expect employees to get or stay excited about grueling holiday work schedules if you don't share the load. Yes, you're the manager, so you have to stay focused on overall operations. Being physically present shows how important this sales season is to you. You can easily keep an eye on the store and see if you need to make changes. And you're on hand to help at the cash register, on the floor, or in the stockroom when there's a rush.
2. Reinforce training with authority
Well-trained employees are essential during the holidays, but your team also needs authority to make decisions while dealing with customers. Make sure everyone knows your guidelines for this and then let them work – but be ready to step in if they need help or if a customer gets out of hand. Never allow anyone to abuse your people.
3. Be flexible
Retail experts suggest assigning shorter-than-normal shifts, or split shifts, because working hours are so intense this time of year. Allow those stuck working on the actual holidays some leeway to switch among themselves, so they can still celebrate with their families.
4. Take a break
Never allow employees to skip scheduled breaks or meal times, no matter how busy things are. If someone has been inundated in one area for a while, switch them to the back room where they can get a little peace and quiet while still being productive. Even switching from one busy task to another can be enough to re-energize people and help them avoid holiday burn-out.
5. Feed them
Bring in lunch (or dinner) or snacks – homemade shows extra consideration. Holiday goodies are always appreciated, but emphasize healthy eating to help build stamina. This is no time to be out sick.
6. Promote fun
Decorate the backroom, not just the sales floor. Schedule dress-up (or dress-down or costume) days. Create friendly games and competition to boost sales, lighten the mood, and keep employees more engaged. Reward the winner with a chance to set their own schedule for a week.
7. Say thanks
Acknowledge your people who go the extra mile. Tell them how much it means to you. Reward them with random small gift cards, hand-written notes, etc. With so many part-time temps this time of year, consider special ways you can motivate them along with your permanent crew.
With happy employees, your store will be replete with smiles and ringing cash registers, right on through the post-Christmas rush. Of course, keeping employees happy and motivated should really be a year-round priority. Make these holiday survival tips part of your everyday management strategy, and you'll have happy employees in every season.
Palmer Retail Solutions strives to offer our clients the absolute best combination of innovation, quality, service, and value for our diversified custom store fixtures and merchandising displays. For more information about our designs, retail fixtures, cash wraps, kiosks, or point of purchase displays, visit our website at: http://www.palmerretailsolutions.com.