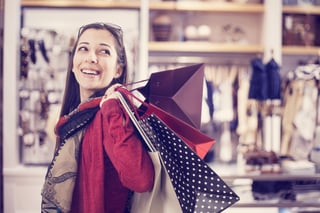 Looks count. At least they do for retail kiosks. After all, how your kiosk looks determines whether shoppers pass you by, or are irresistibly drawn close to browse. Achieving a unique retail kiosk design takes serious thought and an understanding of your clientele, your location, and your goals. So, here are nine tips to help you turn your kiosk into a customer magnet.
Let's start with your goal.
A kiosk can provide an attractive, functional addition to an existing store, or it can be your entire store – a freestanding entity inside a mall or somewhere outdoors. It can serve as a tradeshow exhibit – your "store away from the store" – or your kiosk can sell merchandise or serve food. How you plan to use your kiosk determines its size and configuration as well as the materials best suited to build it.
From that starting point, there are many ways to build uniqueness into your retail kiosk design. Here are nine tips and examples to think about:
Custom design from the ground up automatically assures a one-of-a-kind appearance.
One European company with nail salon kiosks deliberately combined clashing aesthetics – the beauty world and industrial design – to create "a fun, trendy, and flirty design that speaks in the customer's language."
Adapting modular components to create your own branded look can save time and money, according to Jim Palmer, president of Palmer Retail Solutions. An expert on retail kiosk design, he says some product types are similar, so kiosk components that work well for one can work equally well for the other. An example? Kiosks for wireless and small consumer electronics.
Beyond size and configuration, branding, color, signage, and lighting all add distinctive (and functional) touches. But kiosks that really sizzle are the ones that create a flawless background for merchandise displays. Retail kiosk design should enhance your products, never compete.
Make it portable. Wheel it out front of your entrance during business hours, relocate it around the store, and take it to off-site events.
Make it interactive. Touchscreens are commonplace now, and shoppers love the self-service convenience of kiosks, whether they're looking up product information, watching a video, building a custom purchase, or making a payment. Be sure to choose software that makes it easy to interact with your kiosk. That way your customers will have a friendly, no-hassle experience.
Consider what your kiosk needs to house. Will you have soft, stackable merchandise such as apparel? Lots of small items in bins, jars, or other containers? Bulky items? Literature customers can take away? You'll need at least enough counter space for your computer and checkout area. Cleverly designed storage can double as display fixtures.
This outdoor kiosk could easily work indoors, as well. Note how it closes up entirely for maximum off-hours security.
Need some inspiration? Check out this Pinterest board, with tons of examples for all types of merchandise.
No matter what type kiosk you have, or where it's located, sales will soar if you offer outstanding customer service. That will be a lot easier if your retail kiosk design focuses on efficiency and convenience – for shoppers and sales staff.
Palmer Retail Solutions strives to offer our clients the absolute best combination of innovation, quality, service, and value for our diversified custom store fixtures and merchandising displays. For more information about our designs, retail fixtures, cash wraps, kiosks, or point of purchase displays, visit our website at: http://www.palmerretailsolutions.com.