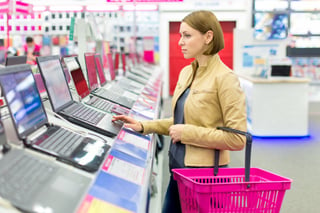 Visual merchandising is the art of enticing the eye. The color, shape, size, texture and arrangement of the display fixtures you use in your store all contribute to your customer's visual experience. As retailers sometimes struggle to clearly differentiate themselves from neighboring stores and competitors, many are turning to acrylic fabrication to custom-design unique store interiors and window displays. So, here is how acrylic can improve your visual merchandising.
Benefits of Acrylic Fabrication:
What's so great about acrylic fabrication?
Extremely versatile
Exceptional strength and durability
Gorgeous aesthetic options
Resistant to heat and cold for outdoor use
Virtually unlimited malleability
Lightweight
Extremely Versatile
Acrylic comes in sheets, tubes, rods and film that can be molded into any shape. Clear or translucent acrylic gives the look of glass, without the weight or fragility. You can add color or texture to create almost any customized effect that blends with your decor or provides a sharp contrast that makes merchandise items stand out in greater relief.
According to Jim Palmer, president of Palmer Retail Solutions, acrylic is easy to form, fairly low cost, and quickly implemented, because there is no lengthy tooling to be developed.
Extremely Durable
Retail fixtures that don't last are not a good investment. Acrylic may be lightweight, but it's also one tough customer. It's strong enough to hold heavy weight, and it can withstand physical impacts without cracking or breaking – up to 10x the impact compared to other materials. These attributes make it ideal for enclosed display cases as well as open shelving or table-style units.
Gorgeous aesthetic options
Acrylic is clear, which makes it an excellent alternative to glass. (Did you know that glass tends to have a green tint around the edges? Acrylic is uniformly clear.) Acrylic can also be colored or tinted. It can be finished to appear translucent, etched, opaque, or mirrored. And special coatings make it resistant to scratching, fogging, or glare.
In general, acrylic lends itself beautifully to every possible store décor, from the most basic, to the height of elegant sophistication.
Unlimited malleability
Acrylic is malleable. It comes in sheets and tubing that can be molded or fastened together into virtually any flat, angled, or rounded shape. You can build fixtures, containers, and props that are back-lit, front-lit, or shelf-lit. They can be tiny or huge, stationary or mobile.
Because of its malleability, it's extremely customizable. While you can find many different types of acrylic ready-made fixtures, consider the fact that only custom store fixtures, point of purchase displays, and props can uniquely convey your store brand. Acrylic fabrication lets you be you, so your entire store stands out distinctly from your competition.
Lightweight
Even thick sheets of acrylic are lighter than other materials of similar size. That makes it the best choice for mix-and-match display units you want to move around your store or reconfigure to create different types of displays.
Ways Acrylic Fabrication will Improve Your Product Displays
1. Add "clarity"
Acrylic provides the same benefits as glass when it comes to visibility and protection, but it's stronger and less expensive. So you can feel more free to use it where glass might make you (or your customers) nervous. And unlike glass, acrylic can take on any shape. You can go wild with curvy display cases, racks, countertops, or shelves.
Of course, acrylic doesn't have to be clear. It can enhance product displays with colorful accents or transform your store into a kaleidoscope of color.
2. Box it up
Acrylic can be used to create display boxes for just about anything. Use them like jewelry boxes, featuring one item per box, whether it's tiny or large. Use cubes in different sizes as building blocks to create interesting multi-dimensional displays – on a tabletop, from the floor up, suspended from the ceiling. Create a pyramid of cubes against a wall, using the horizontal surfaces for merchandise display. Use a huge cube as a free-standing table or display case.
Other "Boxy" Ideas:
Fill open-sided boxes with glitter, shredded paper, candies, flowers, or coiled sparkly lights and use them as props.
Mount boxes on the wall to use as floating shelves or bins.
Boxes don't even have to be square. Create domed enclosures that feature a single product. Or bowls that hold a handful of small items or a bushel of discounted goodies customers can paw through.
3. Think beyond the box
Because of the inherent malleability of acrylic fabrications, there's no need to stick with just boxes! Here's a list of "Non-boxy" acrylic applications:
Create a 3D version of your logo to mount on the wall, or form acrylic rods into block letters or cursive to spell out your store's name.
Build your cash wrap of acrylic – in a free-form shape.
Cut out a big red arrow and hang it from the ceiling, pointing the way to your sale area.
Build a free-standing colorized panel that separates departments.
Shape acrylic into stylish hooks and hangers.
Frame a digital poster or wall display.
Acrylic is so wonderfully versatile, you could, in fact, use it to custom-design the entire interior of your store. Fixtures, furniture, display accessories, "hardware," signage, etc.
Ways We've Used Acrylic Fabrication for Visual Merchandising
Use acrylic to build point-of-purchase displays such as simple racks or holders for everything from folded apparel to nail polish, shoes to wine or other grocery items. Build counters and cabinets, including secure cases to display jewelry and other high-priced items. Create interesting wall-mounted shelving or free-standing kiosks. Shaped acrylic allows you to display apparel in 3D without using traditional mannequins.
Invite shopper participation by incorporating interactive features. For example, the Intel Experience @ Best Buy gives new meaning to "hands on," providing an acrylic-built room within certain Best Buy stores, where customers can see, touch and play with electronics that use Intel components. Of course, you could be more subtle, combining acrylic's unique colors and dimensionality with integrated video.
Because it is so diverse and so versatile, acrylic is the perfect choice when you want to design one-of-a-kind props or fixtures for window displays.
LED lighting blends beautifully with acrylic fabrication, giving added emphasis to particular displays or items. Use LED backlighting behind acrylic panels to create a lovely soft glow throughout your store.
Tips for Visual Merchandising
Remember, well-thought-out visual merchandising:
Establishes and reinforces your brand beyond simply repeating your name and logo.
Draws attention to featured new or sale products or displays to help customers quickly locate specific departments or sections within your store.
Inspires more impulse buying – an increasingly larger percentage of total sales for many types of retail stores.
While there are many types of fixture styles and materials you could use throughout your store, nothing compares to acrylic fabrication when it comes to producing a comprehensive visual experience that captivates shoppers, selling both your brand and your merchandise.
"Palmer Promotional Products is probably the oldest continuous acrylic fabricator in the industry. We've been fabricating acrylic as a company since the mid 1950s. Over the last 50 plus years there's probably not a thing that can be done with acrylic that we haven't done at least once if not several times."
- Jim Palmer, President of Palmer Retail Solutions
Palmer Retail Solutions strives to offer our clients the absolute best combination of innovation, quality, service, and value for our diversified custom store fixtures and merchandising displays. For more information about our designs, retail fixtures, cash wraps, kiosks, or point of purchase displays, visit our website at: http://www.palmerretailsolutions.com.