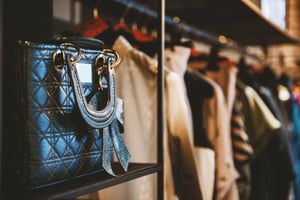 Your back room is stacked with boxes of newly-arrived fashion merchandise. How well it sells when you transfer it to your sales floor depends, in large part, on how you display it.
If you're a merchandiser for a large retailer, apparel may arrive already grouped into outfits, display coordinates, or whatever you call these combinations. You can follow your organization's planograms to complete your displays. If you're the owner/merchandiser of a smaller clothing boutique, you'll have to create your own planogram. Here are some tips for displaying fashion apparel and accessories to drive sales.
Different Ways to Group Merchandise
You have two goals: making it easy to shop and encouraging shoppers to buy more. Groupings serve both purposes. The key is to display related items together, whether you group them by:
End use, or lifestyle themes – Is the outfit for work? Play? A night out?
Fabrication – Gauzy linen vs. denim.
Style – Classic or trendy. If your store caters to cutting-edge trending merchandise, feel free to make your display s"outside the box" to appeal to your clientele.
Pattern – Combine large and small patterns for greatest visual interest, but keep colors consistent.
Brand – Never intermingle brands.
Or you can group by color, following these guidelines:
Match repeated colors.
Coordinate accessories.
Choose a "pivot piece" that sets the color tone for the outfit.
Use neutrals to anchor your color.
Display a complete outfit for each grouping, on a face-out hanger or mannequin. Make sure dressing details look tidy, and steam the items so they look fresh. Wrinkles look sloppy and imply poor quality. Finish your focal point with accessories in coordinating colors – jewelry, scarves or a hat, shoes, fun socks, a purse or beach tote.
You're using the power of suggestion to encourage shoppers to purchase multiple items, and you're showing fashion-challenged or less imaginative customers how to put together a really great ensemble with all the trimmings.
Lighting Techniques for Merchandise
The way you choose to light your merchandise can also attract customers to certain displays. Used correctly, lighting can help you sell more.
Use decorative lighting on walls to reinforce branding. Make sure the lighting matches the style of your store.
Accent lighting can be used to highlight specific displays or items. This type of lighting can be in-ceiling cans or track-mounted. You can also use them under shelves.
Use ambient (general) lighting to fill shadowed areas once the rest of your lighting is in place.
Choose lighting that looks as close to natural light as possible so apparel appears true to its color.
Accessories and Impulse Buys Can Give Sales Totals a Big Boost
Of course you can display accessories on their own, as well as with coordinates. If you sell jewelry, remember that shoppers will buy more when they can pick things up, look them over closely, and hold them up to the mirror. Don't overlook the value of accessorizing mannequins with jewelry, because they have that valuable 3D shape that makes bracelets and necklaces look their best.
Less expensive accessories make excellent candidates for impulse buy displays next to your cash wrap. You'll sell more, and you'll score points with customers who don't have to go elsewhere to add those finishing touches to their new outfits.
While some of these fashion apparel and accessories coordination concepts may seem obvious, keeping them in mind as you build your displays will help you stay focused, so you can avoid small but "off" mistakes or omissions that could cost you in sales.

Palmer Retail Solutions strives to offer our clients the absolute best combination of innovation, quality, service, and value for our diversified custom store fixtures and merchandising displays. For more information about our designs, retail fixtures, cash wraps, kiosks, or point of purchase displays, visit our website at: http://www.palmerretailsolutions.com.