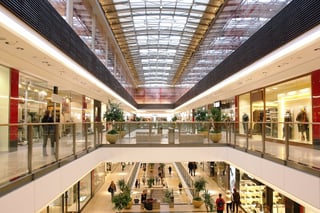 Without recognizable, consistent branding, your retail store can get lost in the wilderness of shopping opportunities. It's essentially anonymous – the opposite of what you need to draw customers and present merchandise in ways that say, "Pick me! Pick me!" Custom acrylic fabrication enables you to transform any type of store, easily and effectively, which goes hand-in-hand with branded store fixtures.
Acrylic is so adaptable and affordable, it's ideal for your industry, whatever that is. It's not just a substitute for glass, it comes in patterns and colors. That's one reason it's perfect for branding. Make a bold statement or subtly establish a brand-specific ambiance. Custom acrylic store fixtures help you create an exceptional customer experience from the floor up.
Let's look at some typical examples of custom acrylic fabrication:
Wireless stores
Wireless stores and kiosks face stiff competition. You need in-your-face branding that customers can't miss. Fixtures that display and sell your products effectively. With custom acrylic fabrication, you can use color and unique design to match any size space. You can add interactive touches essential to help shoppers examine and choose your products. And you can integrate Palmer Cellmate security to protect your merchandise without sacrificing that all-important customer interaction.
Jewelry and small goods
Custom acrylic fabrication is perfect for retail stores and mall kiosks that sell jewelry, belt buckles, accessories, etc. Enclosed cases are essential for small and valuable merchandise. Displays under glass protect items while ensuring outstanding visibility. Acrylic trumps glass because it's stronger, more durable, lighter, and more versatile. It's scratch- and fingerprint-resistant. It combines beautifully with other framing or cabinetry materials, or you can custom-create virtually seamless acrylic display fixtures in any size or shape you like.
You get maximum display "pop," with a look that reflects and reinforces your brand. That's crucial for mall kiosks and tiny stores, where every square inch has to sell as well as show off merchandise.
Franchising
Nowhere is branding more important than for franchises. Custom acrylic fabrication allows you to create store fixtures perfect for whatever you sell yet entirely unique to your store. It is easy to replicate your look exactly for every location, ensuring instant shopper brand recognition.
General retail
Need a show-stopping prop for a window display? Signage and fixtures that guide customers to departments throughout your store, or draw them to featured items on display? Custom acrylic fabrication can give you anything you want. Large or small, whimsical or sophisticated. Free-standing, wall-mounted, counter-top, or display cabinets. Portable or permanent. Varied in size and shape, yet unified in appearance to establish your store's identity and complement your merchandise.
Acrylic display fixtures can give any type of merchandise maximum appeal, inviting customers in any retail setting to step closer and interact with specific items. Custom design allows you to create fixtures that fit your space – physically, functionally, and aesthetically. That's branding you cannot achieve any other way.