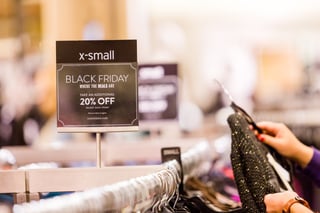 The heavy-duty retail season is almost upon us. Your displays reflect football, Halloween, and Thanksgiving. And then – literally overnight – it's Black Friday, the beginning of that all-important Christmas rush. Yikes!
Busy as you are, you have to plan now to make the most of this revenue-producing season, right from the start. That plan starts with your retail fixtures.
The way in which you arrange your retail fixtures, the merchandise you choose to display, and how you present it will make the difference between a thrilling sales day and a major disappointment. Here are some Black Friday tips to maximize sales:
Rearrange your layout.
Change the positioning of your mobile and adjustable retail fixtures with specific goals in mind:
Easy travel through the store. Usually, you want shoppers to linger and browse. But Black Friday customers are on a mission – they want to get in, get the goods, and get out as quickly as possible. So clear a path, using your fixtures to draw them past the hottest must-have items toward your cash wrap and out the door.
Shrewd placement of impulse items. Since customers won't be wandering around, it's crucial to place impulse items where you know they'll be – next to those hot must-haves. Specialty fixtures with racks or bins for small items and portable fixtures are perfect, whether they're countertop models, hang from shelves, or stand alone. If they're portable, even better. Be sure they don't block your aisles.
You don't have to be a retail giant to cash in on Black Friday. In fact, many customers prefer to buy from smaller stores. There are plenty of space-saving techniques and marketing ideas you can use to make the most of your fixtures.
Keep traffic flowing.
Backtracking in crowded conditions could lead to gridlock, flaring tempers and lost sales. Consider using temporary freestanding fixtures. Position them to direct traffic while displaying most-wanted merchandise, literally leading shoppers through the store. It's a good idea to read up on how you can use your store layout to ensure a safe and orderly (well, sort of orderly) experience for everyone.
As you're planning your displays, consider the fact that maximizing floor space is critical, because you have to allow more room than usual for customers' feet and loaded arms or carts. You can't have displays that block aisles.
Don't forget signage.
It has to be big, bold and simple. Position signs above displays or use ceiling hangers, because if your store is crowded, anything below eye level will be invisible. Ceiling display systems can draw customer attention as soon as they enter, helping them quickly zero in on the area(s) most important to them.
Turn that checkout line into a money-maker.
A long line at the cash register is a good sign for your bottom line, but it can backfire unless you take steps to keep shoppers calm. Black Friday aficionados expect a certain amount of inconvenience – that's part of the game. But a line that looks long and stalled could cause customers to turn away right at the front door. Frustrated buyers can get so irritated they'll leave their treasures behind and bolt.
Again, clever use of retail fixtures can do wonders here. Place temporary fixtures at key points along the way, offering additional merchandise or even video monitors that entertain waiting shoppers. Have an employee hand out orange juice, coffee, and mini-muffins to keep them fueled. Above all else, use a single line. This makes the most of your in-line merchandising, eliminates suspicion that another line is "moving faster," and ensures the next person is waited on next. Frenzied or not, customers will notice.
Planning ahead will help keep your store safe and secure, for customers, employees and merchandise. And it will enable you to transform your retail fixtures into Black Friday sales machines.
Palmer Retail Solutions strives to offer our clients the absolute best combination of innovation, quality, service, and value for our diversified custom store fixtures and merchandising displays. For more information about our designs, retail fixtures, cash wraps, kiosks, or point of purchase displays, visit our website at: http://www.palmerretailsolutions.com.