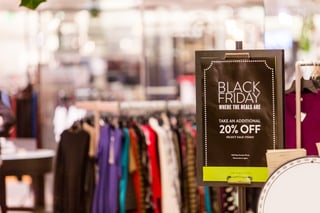 Streamlined but tempting. That's the store layout you'll need if you hope to get through Black Friday relatively unscathed and well into the black. The store displays you create for this frenzied day of shopping will help you optimize your store's layout so customers can snare everything they wanted (and more) and leave so happy they'll want to return again soon. Maybe when it's a little quieter.
Store layout for Black Friday should showcase your hottest items in each department or merchandise section. But don't let shoppers simply grab the best goods and go without even seeing additional buying opportunities.
Keep traffic flowing.
Backtracking in crowded conditions could lead to gridlock, flaring tempers and lost sales. Consider using temporary freestanding fixtures. Position them to direct traffic while displaying most-wanted merchandise, literally leading shoppers through the store. It's a good idea to read up on how you can use your store layout to ensure a safe and orderly (well, sort of orderly) experience for everyone.
As you're planning your displays, consider the fact that maximizing floor space is critical, because you have to allow more room than usual for customers' feet and loaded arms or carts. You can't have displays that block aisles.
Don't forget signage.
It has to be big, bold and simple. Position signs above displays or use ceiling hangers, because if your store is crowded, anything below eye level will be invisible. Ceiling display systems can draw customer attention as soon as they enter, helping them quickly zero in on the area(s) most important to them.
Make it easy.
Black Friday shoppers are highly competitive, vying for two things: your hottest deals and your must-have merchandise. They're shopping for gifts, and many are shopping for themselves and their family. But they are all in a hurry. So forget displays that encourage lingering and focus on convenience.
Think "deep." Skip props and decorations in favor of heftier supplies of backup stock. You won't have much time for restocking, and out-of-stock means no sale. It can also irritate shoppers to the point where they leave. More lost sales.
Customers may be in a hurry, but this is no time to give up on upselling and cross-selling. Do the work for them, offering pre-packed groupings or bundled pricing, with everything in one display.
Create cart or hand-basket stations at key locations. The easier it is for customers to "stock up," the more they'll pick up.
Become a student of retail behavior and analytics, to boost the quality of your store displays, not only on Black Friday but every day of the year.
Black Friday means millions of shoppers, all on a mission. They won't all be in your store, but it may feel like it. So, a savvy choice of merchandise and clever placement of store displays will optimize your store layout – and your sales.
Palmer Retail Solutions strives to offer our clients the absolute best combination of innovation, quality, service, and value for our diversified custom store fixtures and merchandising displays. For more information about our designs, retail fixtures, cash wraps, kiosks, or point of purchase displays, visit our website at: http://www.palmerretailsolutions.com.