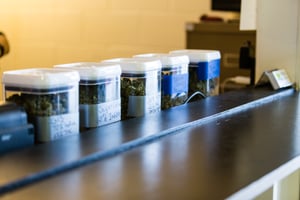 Now that cannabis is going mainstream in more and more states, your dispensary shouldn't hide in the shadows, or you won't have any customers. Whether your shop serves only medicinal buyers or you also cater to those looking for recreational products, you have to stop thinking like a "bud seller" and start thinking like the specialty retailer you now are. That starts with smart cannabis dispensary design.
Across the country, we're already seeing the creative side of dispensary design. From ultra-sleek to just plain fun, homey to all-business, shops are advertising their personalities as well as their wares. And they're using layout and fixtures to set the stage. With some merchandising best practices in mind, you can develop a cannabis dispensary design that has a flair all your own.
Need a little inspiration? Here are some examples of our favorite layouts and ways that you can adapt their creative ideas to your design.
You can have too much of a good thing
Clutter confuses the eye, so crowded or fussy store design will actually stop people from browsing and buying, or even venturing very far into your shop. A clean-looking space invites a closer look, and your customers' feet will follow their eyes – right to your displays.
Use your walls to show off merchandise on cleverly lit shelves or racks, and line the perimeter with cabinets or other fixtures (or a comfy seating area) – think jewelry store. Arrange fixtures in the central area to create a sort of pathway around your shop with "spokes" or other easy access to key areas – the budtenders' counter, accessories, apparel, packaged edibles, etc. Put your cash wrap to the left of the entrance, but not too close to the door, and make sure it is designed to show off popular impulse items as well as take payments.
San Francisco's SPARC does this beautifully, pulling it all together with a whimsical, on-point and colorful display of cannabis seedlings. Lockable glass countertops and cabinets secure merchandise without hampering visibility or staff access, and "under glass" gives your brand and store added class and credence.
Digital displays inform and engage
Younger shoppers, especially, expect to have some type of digital experience everywhere they go, including your shop. There are almost unlimited ways to incorporate digital signage and interactive touchscreens into your cannabis dispensary design. Some shops are using big digital "chalkboard" style signs to display their menus. Some give shoppers personal-size iPad menus to use. Static counter-top screens educate customers about products, while interactive displays and stand-alone kiosks allow customers to find more information and explore your menu at their leisure.
Good Chemistry in Aurora, CO beautifully blends high-tech fixtures with calming dark woods and quiet atmospheric lighting – but look how they use bright light to send your eye straight to certain areas (and how they use brightly-colored kiosk podiums to grab your attention).
Let the mood reflect your customers
Ajoya, just west of Denver in Lakewood, is considered by many to be a trend-setting cannabis shop. The stark white theme says "professional and clean," the future-forward, minimalist fixtures and bright lighting are exciting, and the rounded edges soften the feel just enough to invite taking a seat to learn more about the products.
And then there's Serra, located in Portland, Oregon's ultra-industrial chic Pearl District. Serra is as hip as its neighborhood and its customers, proving there's more than one way to create cannabis dispensary design that features white as the branded theme color. Where Ajoya shoppers may think they've gone to Mars (or a Star Wars cosmetics counter), Serra's clientele get a gallery-like experience – in an area replete with art galleries. Who says display cabinets must be made of wood?
Despite their dramatically different color schemes and finishing touches, our favorite cannabis shops all rely on proven layout techniques and fixture styles that welcome customers and sell product. You can achieve that, too, and it's surprisingly affordable and simple when you start with modular fixtures. Our Palmer cannabis dispensary fixtures catalog has all the basics you could want for any size and shape space, customizable to give your store a brand-tailored vibe and give customers an experience worth repeating.