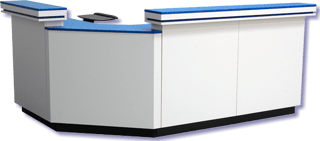 If a regular shopper visits your store and sees the "same old stuff" at the checkout counter, you'll miss out on an important opportunity. They will be blind to your last-minute purchase offerings, and that will have a depressing impact on your store's overall sales. Give that cash wrap a makeover, and you'll boost your customers' experience as well as your bottom line.
Find ways to revitalize your cash wrap to turn heads, whether that's scrapping the old add-ons for some new items, repositioning displays, or giving your cash wrap an entirely new look. Your checkout counter should be welcoming and convenient for shoppers, but it should also be eye-catching and irresistibly tempting.
Give 'em the right stuff
Impulse items that sell best are small and inexpensive. They are:
"Hey, I need that!" necessities customers may have forgotten.
"Hey, cool!" accessories or other add-ons customers can snap up to complement their other purchases.

Fun seasonal goodies.
Bins, baskets, and small racks (perhaps a rotating countertop model) keep grab-and-go items tidy and say "help yourself." You can put a couple on your counter, as long as you don't encroach on your customer's "comfort zone," but you'll sell even more if you display impulse items adjacent to your cash wrap, as well.
Give your cash wrap frequent mini-makeovers, by moving items around and replacing at least some with fresh surprises. And be sure to analyze sales of cash wrap items – both item and price – because you only have room for the hottest sellers.
Say it as well as show it
Signage is as important at your cash wrap as it is throughout your store. Use the customer-facing wall behind your counter to remind people about a current promotion, announce an upcoming one, or invite them to join your rewards program. Add signs that draw attention to your impulse items.
All signage should look professional, of course. Experts warn that homemade signs look tacky, but here's an exception: If you have a staffer with a talent for artistic writing, handwritten signs can really grab attention and add special zest to your brand. Chalkboards are an example.
Attach some picture frames (or paint faux frames) and display a rotating arrangement of photos showing customers using or wearing your merchandise.
Is it time for a major makeover?
The design of your cash wrap has a tremendous psychological impact on customers. And there's nothing more eye-catching than big, obvious changes.
Maybe your space needs a new cash wrap configuration – round instead of the usual rectangle, with built-in display space in front or under the counter. Or consider a different kind of visual re-do, with more interesting colors or materials. Cash wraps offer outstanding branding opportunities, so incorporate your name and/or logo in the design.
Looking to make a change? Our Palmer design team can help you explore ideas and create a cash wrap that's unique to your store and a best-seller with customers.