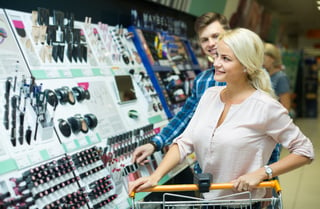 There are thousands of ideas on Pinterest to spark your point-of-purchase display creativity. Of course those "ideas" should be used more as inspiration. You don't want to just copy someone else's display because your store is unique, even if your merchandise line is similar. And there's more to Pinterest than getting ideas. You want people to pin and share your displays. Here are some ways to take advantage of your POP displays to reel in social attention.

With millions of users, Pinterest is a prime environment in which to promote your store and attract new customers. You can reach prospects from anywhere, which is good news for your online or multi-channel store. Or you can focus locally, which is good news if you have a narrow geographic presence. And Pinterest isn't your only sharing opportunity. Instagram is hotter than ever.

To reap the benefits, your POP display design should create such an "ooooh, aaaaah" impression, that shoppers stop dead in their tracks to look more closely. Then they'll whip out their phones to share a photo.
The best location for a POP display
POP displays were originally placed at or near the checkout counter – the literal point of purchase. But shopping and merchandising have changed dramatically, and retailers now recognize that the "point of purchase" is the moment a customer decides to buy something. That could be anywhere in your store. For any type of store.
Sharing is good, sales are best
Any display that is worthy of sharing should be a sales winner, too. But to achieve both shares and sales, it's important to incorporate key psychological factors. Consider these four factors and their impact:
Bright colors and strong contrasts are the most arresting.

Did you know curved lines are more appealing than sharp edges?

Or that shoppers prefer natural-feeling textures?

Customers relate better to faces, whether animated or real people.
These factors apply to grocery-type stores and free-standing product displays, but they can be used to create many different Pinterest- and sales-worthy displays.
Keep it simple
An overdone display is too hard for the eye to quickly grasp. Make a succinct visual statement – one that tells a story by grouping related items as shoppers would use them together at home or in the office. Make it easy for customers to instantly "get" your visual story by giving your display a main focal point and then building around that.
And use short or bulleted text on retail display signage.
Encourage the urge to share
Actively invite customers to snap and share photos of your displays. One retailer made this irresistible, by displaying cutout apparel silhouettes customers could "try on" for a selfie. Talk about interactive customer engagement!
Creating a must-share POP display is all about the wow! factor, whether that's something unexpected, beautiful, or captivating in some other way. You'll earn more shares, and more sales, too.