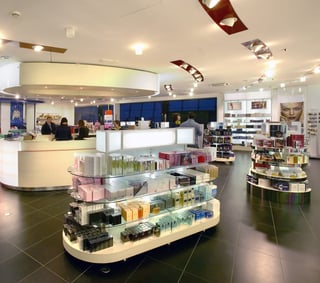 Store fixtures are necessary for any retailer. Without them, you'd have no way to display your merchandise. There are plenty of places to buy new or even used ready-made fixtures — you could even use repurposed furniture — but you'd only be "making do." The only way you can make the very best use of your available sales space is with custom retail fixtures.
What retailer wants to deliberately sacrifice sales? None, which is why custom store fixtures are so attractive. Custom fixtures can do more than simply hold products. They have the power to brand your store. To attract customers. To encourage them to linger – or help them shop efficiently. All those things that drive sales.
Custom retail fixtures meet your specific display challenges.
Depending on your type of store, you may have to contend with:
Very bulky objects
Very heavy items
Very small items
Very expensive items
Thousands of different SKUs
Multiple related but separate merchandise departments
At the same time, your fixtures may need to:
Enable (and overtly encourage) customer interaction with products
Present multiple product options or samples
Facilitate cross-merchandising
Keep merchandise secure
Store back-up stock or supplies
That's a lot to expect from "off the shelf" store shelves, particularly when you also want them to provide eye-catching visual impact and promote impulse buying. With customized design and construction, these challenges become solutions.
Custom store fixtures fit like a glove.
Regardless of your store's overall size or dimensions, custom-designed fixtures can be tailored to fit precisely. Fit and scale give your store structure and create an inviting environment. There are many different kinds of free-standing, tabletop and wall-mounted fixtures you could use -- gondolas or other shelving units, tables, cabinets, bins, boxes, racks, hangars, or mannequins.
You can go high in a warehouse-style store, but you should stay low in a more intimate setting, for better cross-store visibility. But how you arrange fixtures defines and controls traffic flow throughout your store. Your aisles or free-form pathways directly affect customer behavior, making shopping as convenient, informative and/or exciting as they expect it to be.
Custom store fixtures reinforce your brand.
Sure, you can order pre-made fixtures in a variety of colors or finishes — or repaint them to match your official colors — but your brand is more than your logo, it's the whole enchilada. Custom design enables you to use exactly the colors, patterns, shapes, and materials that express your style and your store's ambiance. That creates a first impression that is unmistakably "you" and contributes to a more memorable customer experience.
That includes your cash wrap. With custom design, you can transform it from a mere workstation into a final focal point – a place that offers shoppers one last chance to pick up impulse items and puts the finishing touch on their in-store experience.
How to make the most of custom retail fixtures.
Use them to display merchandise as shoppers would actually use it. Stores use mannequins, set up tents, and set a table with dinnerware because real-life visualization supports the decision to buy. Custom fixtures create the perfect spot for sales associates to personally show high-end merchandise. Or for your customers to sit comfortably to try on shoes.
Designing custom fixtures allows you to make the most of lighting, especially all the latest LED innovations that draw attention and beautifully highlight items.
Custom fixtures invite memorable engagement, whether that's physical examination of merchandise or interaction with a digital display.
Remember that creating the best possible customer experience is an ongoing effort. Your store is evolving, and so are your shoppers, so it stands to reason that fine-tuning is the key to long-term success. Track how customers shop within your store, not just what they buy. These clues point the way to continuous improvement, telling you which fixtures are selling more.
You don't have to go it alone.
If you have a solid plan in mind for your custom retail store fixtures, that's great. But if you're not there, yet, we can help. Maybe you have an idea but need help translating it into reality. Or maybe you're still looking for yes! ideas. Who better to help create a store interior that assures an amazing customer experience than our team of experts at Palmer Retail Solutions?
We know all the possibilities firsthand, thanks to our 25+ years' experience. We know what will work in your space, for your merchandise, and clientele. We can help you design custom fixtures that will sell more and keep customers coming back. Oh, and fit your budget, too.