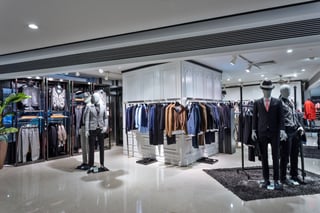 You can't attract shoppers if your store doesn't have something different to offer. Along with carrying at least some unique-to-you merchandise, giving your entire store a distinctive look and feel reinforces your brand, and clearly sets you apart from the competition. Custom store fixtures form the foundation that helps define and accentuate the rest of your visual merchandising.
Your fixtures don't just stand around doing nothing. Sure, they display your groceries or apparel or fishing gear or nail polish, but they also have two more jobs:
Draw customer attention to merchandise departments and specific items around your store.

Contribute mightily to the overall ambiance.
Don't forget, today's shoppers want a great experience, not just great purchases.
Why are custom store fixtures better?

Custom store fixtures support overall visual merchandising, make your space more flexible, allow you to easily meet ADA or other legal requirements, and stimulate purchasing, all while helping you control costs.
You can create one-of-a-kind fixtures from virtually any material:
Wood
Plywood or fiberboard
Veneers and laminates
Acrylic
Polycarbonate
Aluminum, stainless steel or decorative metals such as copper
Glass
Marble
Stone
Found objects
Fabric
Paint
Custom design means you can create any shape or size. Fixtures can be built-in, mobile, mix-and-match stackables, or wall-mounted components. You can also build closed or locking showcases for added security.
Custom store fixtures fit – aesthetically and functionally.
Ready-made fixtures may be the fast-and-easy solution, but what are the chances they will fit your store's dimensions exactly? Not good. Custom design allows for perfect measurement.
Ready-made fixtures come in "the usual" shapes – rectangular, square, perhaps round. Custom design allows you to demonstrate your originality in ways that show off your store's true personality. Go wild (or speak subtly) with curves. Curvy countertops. "Waves" of cabinets. And don't forget the wheels to create mobile fixtures you can move around and re-combine to create entirely new looks.
Ready-made fixtures come in "the usual" materials – metal, laminate, perhaps wood. Custom design can put commonly used materials to work in unusual ways, or feature an interesting variety of less obvious building materials – aluminum, stainless steel, acrylic, glass.
You can produce precisely the look and functionality you want. Top beautiful wood-crafted cabinets with a handsome marble countertop for a sophisticated feel (and a tough-as-nails working surface). Display video monitors (or an interactive touch-screen) on a shallow slatwall shelf, with security cabinets below.
Custom designs can include color! Who says your hardware has to be white or chrome? Zzzzzz.
Custom design is as versatile as the types of store fixture you can build:
Display counters, cabinets and tables.

Shelving.

Hanging rods and racks.

POP displays.

Free standing floor displays.

Wall-mounted displays.

Sales counter or other types of cash wraps and customer service desks.
Materials and textures that blend harmoniously or contrast sharply with the merchandise you sell create the atmosphere your customers expect (or something entirely unexpected). You can build in branding, by integrating your official colors, your name or logo. You can also build in features that provide additional information or self-help options.
Custom design is customer-centric. You can guarantee a better, more memorable experience by creating fixtures that make shopping and selecting easier and more convenient. Ultimately, your fixtures should deliver the power of suggestion that tells prospective shoppers your place is a "must-visit," because obviously there is no other store quite like it.
The Association of Retail Environments (ARE) predicted (correctly) that one of retail's hottest trends for 2015 would be custom store fixtures that complement store décor and furnishings in addition to holding merchandise. It's easy to see why.
Competition is too tough for your store to look generic or bland.
What you choose in the way of store fixtures and how you customize them creates an attractive, comfortable, efficient atmosphere that sells, whether you're selling groceries, sporting goods, shoes or jewelry. Shoppers can easily find what they're looking for or spot something unexpected they feel compelled to investigate up close.
You must stand out from others, but in a way that is true to your brand and clientele. What does your customer's "comfort zone" feel like? Warm and cozy, practical and efficient, sleek and sophisticated, trendy, or offbeat? Customization ensures a consistent, coordinated look that matches your customers' expectations.
Display fixtures are not merely "something to hold your merchandise." To sell successfully for you, they have to be part of your store planning process from the beginning. Waiting till everything else is finished to think about and buy fixtures will leave you with an overall look that simply does not work. The fixtures may mar the environment you've tried to create, rather than serving as key establishing elements.
Expert guidance ensures proper customization.
If you're in retail, you undoubtedly have a "good eye." Nonetheless, selecting and arranging fixtures is both an art and a science. It takes experience in both store and fixture design to pull everything together in a way that creates maximum impact and provides an atmosphere and shopping experience that entices customers to stay and buy.
Professional help ensures you start with the right store layout, so you can make the most of whatever fixtures you choose. Even if custom design costs a bit more upfront, this is an investment in your store's ability to drive profits. Very small or brand new retailers can consider customizing used fixtures to stretch your budget.
Some stores are filled with one-of-a-kind merchandise. Most stores, though, have competition — so people have a choice whether they buy from you or somewhere else. But custom store fixtures can differentiate your store, creating an eye-catching, pleasing atmosphere that makes your products stand out and makes your store the preferred place to shop.
Palmer Retail Solutions strives to offer our clients the absolute best combination of innovation, quality, service, and value for our diversified custom store fixtures and merchandising displays. For more information about our designs, retail fixtures, cash wraps, kiosks, or point of purchase displays, visit our website at: http://www.palmerretailsolutions.com.