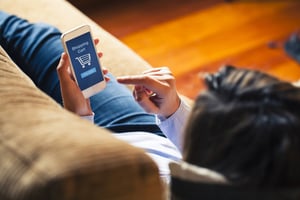 Did you know
approximately 68% of U.S. adults use Facebook
— most of whom access it every day, three-quarters of U.S. adults use YouTube, and 35% of the same demographic use Instagram? And these numbers only increase when specifically talking about 18- to 24-year-olds. That's a lot of people on social media platforms.
As a retailer, it's a great opportunity to attract new customers, connect with your existing ones, drive sales, launch campaigns, and strengthen brand loyalty. Here's how.
Consider the Facts About In-Store Shopping
You may think your customers are socially-focused (and they are), but they are also looking for more reasons to visit you in person.
The ability to feel, hear, or smell your products is why

85% of consumers prefer brick-and-mortar shopping.
Today's customers are impatient. More than one-third say they don't want to wait for shipping.
30% want personalized advice about purchasing decisions.
Only in-store customer engagement positively addresses all of these issues to give shoppers the holistic experience they crave. Use social media to cleverly capitalize on that.
Use Social Media to Drive Customers to Your Store
You can deliberately invite customers to join you in the store for some specific purpose, and you can also harness the power of suggestion to more subtly motivate in-store shopping. How?
Create in-store experiences that go beyond browsing and buying.

Events

can be tailored to fit any type or size of store and any customer demographic. Make them intimate and exclusive by invitation only via social media. Focus on one platform's followers, say Facebook, or post invites across the board on Instagram, Twitter, Pinterest, Snapchat… wherever your target audience hangs out. Offer an incentive to boost attendance.
Post special offers on social media for in-store redemption only.

Again, you can make it a platform-specific promotion or spread the wealth by including your friends and fans across multiple platforms. Choose the one(s) that align(s) best with your target audience for the campaign as well as the point of the promotion.
Post a photo or short video about a soon-to-be-in-store product

with an invitation to bring a friend on a certain date for a sneak preview.
Start conversations by posing questions

about unique ways customers are using your products (encourage visual responses). Then, turn it into a contest, asking followers to vote on their favorites. Host an in-store event to announce the winners. Or start a different kind of conversation by posting a question such as, "What would you wear with this (sweater)?" Or, "What's the first thing you'd make with this tool?"
Install one or more

interactive kiosks

that enable shoppers to personalize their in-store activities, from selecting items for an outfit to registering for your rewards club or next event to paying in seconds with their smartphone. The latest technology takes shopping assistance one step further by supplying specific recommendations for the user based on what they're already looking at or trying on, much as a live store associate would do.
It's All About Service
Driving in-store customer engagement starts with treating your social media followers like royalty. If you don't serve them well there, why would they bother to head to your store? Worthwhile posts and consistently fast responses are both essential. With that kind of brand reputation and a sweet social offer in hand, they will be headed your way soon.