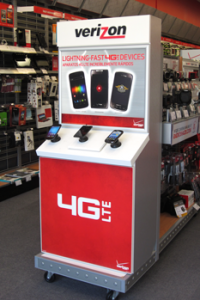 Business Network (BNET) stated that 39 percent people in the United States "love to shop." For many, shopping could be considered a form of relaxation or a hobby. Stores are faced with an audience that is willing to purchase, but overwhelmed with options and choices. Store fixtures can be used to differentiate and attract customers into your store. Harness these elements and encourage shoppers to visit, stay, and purchase. Woo and win the audience over with these tips.
It just makes sense to have customer friendly store fixtures. If you make it easy and pleasant for people to shop, they'll stick around longer and buy more!
Customer friendly display fixtures are:
Attractive – interesting enough to draw the eye toward your products without overpowering them, while showing off your products' best attributes.
Changeable – components you can move around your store or place in different configurations are a smarter investment because they're more versatile. They also help keep your store ever changing and fresh looking.
Convenient – putting products within easy reach.
Line of sight is important, so customers can see all that you have to offer, but also so you can see them and quickly detect who needs personal attention. Fixtures should create a layout that provides browsing pathways, accompanied by signage that indicates "product destinations."
Store Fixture Tips
Create an environment that promotes shopping and browsing. This is done through interesting and appealing facets that are made possible by interchangeable.
The "pile it high, sell it cheap" strategy of yore will not succeed in today's competitive environment. As a retailer, you need to stay on par with the strategies of stores that surround you. Attractive retail fixtures will help keep consumers satisfied and becoming repeat customers.
Take time to focus on your target market. Look around your store. In what ways are the store fixtures not compatible with your customers' needs? Fixtures that hinder the shopping experience are a sure-fire way to deter customers from spending time in your store.
Find ways to encourage continual shopping. Align fixtures in a way that creates a clear path to move around the store. Keep in mind that an average person's field of vision tends to be around 170 degrees.
Strategic use of store fixtures encourages shoppers on a subconscious level to stay in your store longer and subsequently encounter more products. This increases the potential for sales and revenue. Do everything in your power to appeal to consumers by arranging your store fixtures to create an environment customers will return to over-and-over again.
Customer friendly display fixtures deliver the power of suggestion.
Not everyone is good at visualization, so try to show products in action, if you can. Offer a short video that shows how easy it is to set up the tent, or explains why these running shoes are The Right Choice. Kiosks are an eye-catching way to put technology to use throughout your store.
You can use them to augment display fixtures, or use them as stand-alone fixtures themselves. But remember to hide wires and cables that power electronics, because they look messy and create potential hazards.
When choosing display fixtures, consider these factors:
Neutral colors provide the best background to show off your products, but that doesn't necessarily mean cream or beige. Try dark blue, forest green or dark red on one wall.
Fixtures should be sturdy enough to hold the weight of your merchandise, and big enough to show a full range of size or color options. They should hold enough back-up products so you aren't constantly restocking, but not offer piles so deep customers have to paw through them to find the right size.
Fixtures should complement the overall look and ambiance of your store with a professional, inviting appearance. They don't all have to be identical, but they do have to coordinate with one another. On the other hand, you can create extra excitement by using one very different fixture to highlight a specific product.
Whether your store is fun and flashy or conservative and traditional, choosing customer friendly display fixtures will endear you to your shoppers.
If you have additional questions about the kiosk as a retail solution, download our eBook outlining important things to know before opening a kiosk. Keep current with industry discussions and product information on Twitter: @PalmerPRS. To connect with us you can visit our website at www.palmerretailsolutions.com. Palmer derives great satisfaction from designing unique interactive kiosks that incorporate maximum functionality, ergonomics and offer long-lasting service.
Palmer Retail Solutions strives to offer our clients the absolute best combination of innovation, quality, service, and value for our diversified custom store fixtures and merchandising displays. For more information about our designs, retail fixtures, cash wraps, kiosks, or point of purchase displays, visit our website at http://www.palmerretailsolutions.com.