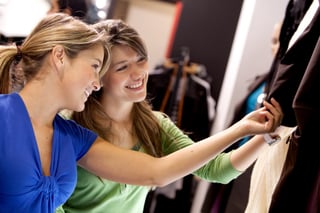 The key to retail perfection (and greater profitability) is to always order exactly the right amount of merchandise. Not too little – who wants to miss out on sales? But not too much, either. Because then you're faced with the dead stock dilemma: what to do with that aging inventory.
Breathe new life into it
Ideally, you'd like to turn those lingering items into cash, and you can. But don't simply rush to discount the heck out of items. There are several creative ways you can recoup your investment and, possibly, still see some profit. First, make sure the items still look first-rate – clean, not shop-worn, price tags in place, etc.
Re-do your display, so customers will see it as something new. You can even feature a slow-seller in prime territory – just inside and to the right of your entrance, or even in a fun window display. Ramp that up by making the product your "item of the week" and promoting it via email or social media.
Move the item to a different location, where shoppers will see it with fresh eyes. Sometimes, that's all it takes.
Display dated inventory paired with related hot sellers, so customers see the connection. Better yet, bundle them – buy the sweater, get the pretty scarf. You can bundle like items, too, using traditional BOGO pairings or grouping multiple colors of a single item. Offer the bundle at a slight discount over individual pricing.
Reducing the price is certainly an option, but try a smallish discount – no more than 25-30% – before going deeper. Better yet, turn a slow-mover into a must-have by holding a flash sale that creates a sense of urgency. If you have several under-performing items, say toward season's end, hold a storewide "clear the shelves" sale, and turn it into an event that draws first-time customers.
Face facts – it's not going to sell
Merchandise that isn't moving is costing you money. You could be using that space and that capital for something else that will sell. So if you've given that aging inventory a second chance to connect with customers and it's still a dud, get rid of it. Ask your vendor about returning or exchanging the merchandise.
If the non-seller is a lower price item, chalk your cost up to marketing and use the items as in-store giveaways in return for spending a minimum amount, registering for your email list, etc. If you have enough, donate the items for local event goodie bags. And always consider donating excess inventory to appropriate charities such as thrift shops and food banks. You'll be helping someone in need, and you may even get a tax deduction.