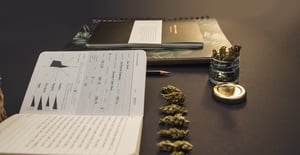 Your new cannabis dispensary may be just like any other retail boutique in many ways, but not when it comes to the regulations you have to follow! There are many, they can be complex, and they are not optional. You cannot afford a misstep, and that makes having a dispensary business plan all the more important. Really, it should be Priority #1 because it both reflects and drives your business decisions.
Well, let's make that Priority #2. Before you do anything else, you must learn about the legal and financial requirements for establishing and managing a marijuana/cannabis business in your area. Money management can be especially challenging because cannabis is still illegal on the federal level and banks are governed by federal regulations.
Everybody Has Their Own Rules
It's great news that more and more states are piling on the cannabis bandwagon because that increases business opportunities. States are legalizing recreational as well as medicinal marijuana in part due to public pressure, but also to realize the considerable economic benefits for the state itself. The downside is that every state and locality has its own regulations about growing and selling weed. You can find the laws that apply to your dispensary here.
Your dispensary will need licenses and/or special permits to operate. The specific documentation required will depend on the scope of your business as well as your location. This article serves as a good general guide, but you'll still need to get the official lowdown from local officials to ensure you're in compliance. Then you can get down to business!
Building Your Dispensary Business Plan
Yes, opening a new dispensary is exciting and writing a business plan is tedious. But you can't succeed in business if you don't know where you're going – or want to do in the future. And if you ever want to borrow money to expand, lenders will respond by asking to see your business plan. So, no eating dessert first. Besides, the very act of creating your plan will help you make the smartest decisions to get your dispensary off to a flying start.
Every business plan needs certain elements:
An executive summary – this goes at the front, but you'll write it last because it summarizes the key points in your plan (who you are as a business, where you're headed, and how you will get there).
A company overview – who will be involved, where you will be located, what you'll sell, how you'll handle daily operations, right down to your hours of operation and what kind of POS software you plan to use to track inventory and sales. You'll want to be very specific in describing your cash handling procedures and cash/storewide security protections.
Market analysis and marketing strategy – hopefully, you've already done this so you know that there is sufficient current and future sales/growth opportunity to support your dispensary, who your competitors will be, and (most importantly) how you plan to distinguish your shop and brand. Marketing is about getting people in the door and then motivating them to buy before they leave.
A financial plan – whereas your company overview will describe money handling procedures, this section will talk about how you plan to make that money. What are your expenses, both fixed and fluctuating? How much revenue do you expect to bring in, by category of merchandise sold (bud, accessories, edibles, apparel, etc.)? How will you set pricing to ensure you're profitable? Where is your start-up capital coming from (and do you have enough to sustain you in the early days before profitability kicks in)?
Happily, there are many good business plan templates available online, and using one will make it easier and faster to create your dispensary's plan. Just remember that templates are one-size-fits-all so not everything will be relevant to you. In fact, we've created a dispensary business plan that will be most helpful, and you can download that for free here.
How Will Your Dispensary Sell for You?
Creative, strategic marketing may get folks into your shop, but what they see when they step inside will determine whether they linger to browse and buy or they leave quickly. You've invested a lot of thought and money into planning your merchandise lineup, so offering a comfortable, easy to shop, well-branded environment is a must. With the right displays, arranged in the right layout, products can literally sell themselves.
We can help. Our Palmer Retail Solutions team has decades of experience in helping stores design environments that sell. We understand the special challenges you face when it comes to store and product security. We even have an entire catalog of attractive, practical, and affordable modular components that can be customized just for your dispensary. Sounds like a good plan, doesn't it?