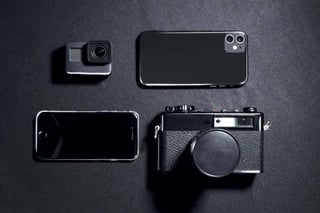 Electronics kiosks have plenty of competition. How can you possibly stand out in that crowd to catch new customers? Few products change as rapidly as high-tech electronics, digital cameras and other mobile devices, so your kiosk has to be innovative, too. It's not enough to offer leading-edge products, you have to catch the eye and the imagination of potential customers walking by.
Electronics kiosks that sell best focus on two vital attributes: visibility and accessibility (The same tips work for the floor fixtures within a retail store). You need to display your latest technology — with room for hands-on testing — and display accessories in a can't-miss array of colors and shapes.
1. Visibility draws them in
A mall kiosk requires 360o of attracting power. Your products have to be displayed so that foot traffic coming from any direction can instantly see everything you have to offer. You can differentiate yourself by selling unusual accessories and even repair service at your kiosk, in addition to basic electronic devices. But your product range has to be obvious, or shoppers won't stop.
You can attract even more new customers with a highly visible special promotion, such as a discount on accessories with purchase, or "buy one, get one" event.
Every detail about your electronics kiosk has to reinforce your branding and make it easy and tempting for shoppers to investigate and buy your products. You can choose custom design from the floor up, or use modular components to craft a kiosk that sets your business apart.
2. Accessibility motivates them to buy
People who spy something interesting will stop to check out your products. Accessibility is critical, for two reasons:
Shoppers in a hurry must be able to quickly pick up whatever grabbed their attention – say, a colorful new set of ear buds, remote control or selfie stick – they want to pay for it, and move on.

Most shoppers want to test out your products before they decide to buy, this is especially true of electronic devices that now come with a multitude of features. They expect to play around with the tech. How do the features work? How does it feel in the hand? They want to try the accessories. Do you sell rugged GoPro cameras? Provide a sample they can drop on the floor.
The more "immersive" their experience, the more likely customers are to buy. So encourage hands-on interaction and make it easy. A friendly salesperson can assist and suggest, but some shoppers aren't ready for that personal touch. A well-designed kiosk maximizes DIY opportunities. Digital displays and short demo videos can engage customers and boost your kiosk's ability to attract and sell.
3. High-tech displays say "pick me"
You're selling the latest in electronic technology at your kiosk, so yesterday's static displays won't cut it. Interactive displays are essential. Interior islands in a larger space can serve as both display tables and demonstration counters. This is where you want to display the devices themselves. Space them so people can interact with products, but leave room for your employee(s) to work one-on-one with customers.
For a mall kiosk where islands may not work, intersperse counter-top fixtures with wall-mounted displays. This enables your staff to see and greet people as well as keep an eye on the entire kiosk.
Incorporate digital posters or slide shows that depict key products – especially if the images include people using them. That helps shoppers picture themselves using the device. Or use countertop or built-in video monitors to show short product demo loops. Moving pictures are irresistible, and the videos can act as auxiliary salespeople, introducing shoppers to new products and explaining their key features and benefits.
4. Effective theft prevention
Sometimes "shoppers" are interested in looting, not buying, your merchandise. Small electronics and cell phones are favorites with light-fingered thieves because they're so easy to conceal. It's both annoying and costly.
Palmer Retail Solutions has worked with the electronics and wireless retail industries for years, so we understand you need an anti-theft solution that doesn't sacrifice customer interaction with your products. That's why we developed the CELLMATE. It protects your inventory, and it helps you attract the right kind of customers.