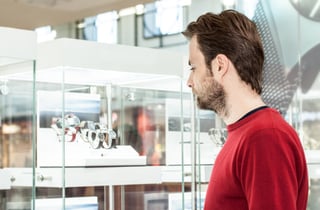 For certain types of retail stores, glass showcases offer superior merchandising opportunities. Because they are entirely enclosed, showcases provide better security for small, fragile and high-priced items without detracting from your customer's ability to spy merchandise from a distance or browse items up close.
Glass showcases are ideal to show off jewelry and watches, but they are frequently used to display knick-knacks or valuable collectibles or any type of merchandise that looks its best with exceptional lighting.
Enclosed cases keep items clean and safe, and they subtly suggest to customers that items housed inside are more valuable. Counter-style showcases allow your sales staff to engage naturally with customers, starting a conversation and making suggestions as they remove individual items for personal inspection.
The key is picking the right showcases. They come in more shapes and sizes than you might think, from freestanding and built-ins to wall-mounted, tabletops, boxes and domes.
As with all visual merchandising, presentation is everything.
Your displays send a message to customers about the quality and desirability of your products. Presentation starts with the fixtures themselves and ends with perfectly arranged, irresistible displays.
Don't over-stuff your showcases – you want each item's "personality" to shine on its own. And speaking of shine, LED lighting is an ideal companion for glass showcases. These lights are long-lasting, low-maintenance, energy-efficient, and cool burning, but their most impressive attribute is their brilliant illumination that creates maximum sparkle.
Experts recommend focusing on one featured item for each display – something with a value about 20% higher than the average cost of neighboring pieces. This helps draw your customer's eye to the display and gives them a point to start browsing more closely.
Whatever displays you create for your glass showcases, take pictures of your work, and date the photos. Keep track of which items and price points sell best, and use that data to modify your displays as needed. The photos will help you re-create top-performing seasonal displays next year.
Custom design adds even more versatility.
You can purchase pre-made glass fixtures, but custom design ensures your showcases will blend beautifully with your store's décor and ambiance. You can safely display larger items that need extra security or simply add interest to your overall visual merchandising look.
You can choose simple, traditional styles or something ultra-modern, using wood, metals or other materials for framing. Showcases can be outfitted with key or combination locks for added security. Using tempered glass for counter-style cases gives added strength, or you can choose Plexiglas instead, to achieve the same look with even greater strength and scratch-resistance.
Glass showcases can be both practical and fun.
Here are nine unique ways to use glass showcases — either in your store or in your home:
A see-through countertop or tabletop allows you to display and store inventory at the same time. The top can be fixed with merchandise accessible in drawers, or it can lift for easy access and re-arrangement. This is a traditional jewelry display technique, but jewelry is just the beginning. At home, this style works beautifully as a

coffee table

that showcases "finds," or as a vanity that doubles as storage for cosmetics and nail supplies. Things are well-organized and visible, so you never have to go digging through drawers to find what you're looking for.
More than a counter, why not turn your entire cash wrap into a glass showcase that encourages last-minute browsing and buying?
Why outgrow a

toy collection, when you can turn it into a focal point instead? Any type of collection from miniatures or coins, to dolls or teapots looks great under glass, whether your showcase is wall-mounted, a cabinet, or a 360o

rotating tower.
Display non-traditional merchandise. These

succulents in a terrarium

could be a POP display in a garden shop or an eye-catching addition to your living room. Use a glass display case with adjustable shelves to show and store different types of shoes, from flats to tall boots. Or you can stack soft goods like clothing or colorful quilts in the showcase.
Don't relegate jewelry to the usual types of display cases. This big

antique lantern

draws attention but focuses the eye on the merchandise inside.
Use apothecary or other interesting jars within your glass showcase to hold tiny items – buttons, candies, etc.
Turn glass domes and boxes into pint-sized showcases.
Turn your

kiosk

into a glass showcase, whether it's a small mobile unit or perched in the middle of a mall.
Use

acrylic

instead of glass, and you can add color to the equation.
You don't have to know exactly what type of glass showcases you want before you contact a retail display manufacturer. One of the greatest advantages of custom design is that you can start at the very beginning – with expert advice about the best merchandising ideas for your store. Then you can work together to design display units that fit your style as well as your store's measurements.
Palmer Retail Solutions strives to offer our clients the absolute best combination of innovation, quality, service, and value for our diversified custom store fixtures and merchandising displays. For more information about our designs, retail fixtures, cash wraps, kiosks, or point of purchase displays, visit our website at: http://www.palmerretailsolutions.com.