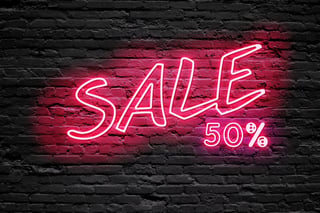 Signs are a critical component of any retail store. They can display words to identify departments, describe merchandise, and direct shoppers to exactly where you want them to go. But lighted signs can do more than just inform shoppers. They can decorate your store and add a big, bright boost to your brand's entire customer experience.
Using photos, graphics, and video can transform in-store signs, making them more eye-catching and more sales-effective. Make them big and obvious, or intimate enough to focus customer attention on a specific merchandise display.
Bring the outside in
Some types of "exterior only" lighted signs serve beautifully indoors, too. It's just a matter of scale and materials. For example, think about how you could use LED lightboxes to display static text and/or graphic banners. Placing them overhead or higher up on walls ensures visibility from a distance. They could even be two-sided, with the same or different messaging on each side.
Backlit signs and graphics made from aluminum, stainless steel, or acrylic are another example. You often see these used in corporate lobbies to show off the company's name or logo. You can back-light individual letters or shapes or create reverse signs with the text cut out then lit from behind. If your retail store doesn't have a "lobby," so what! There are many creative and striking ways to use these ideas.
Neon is fun and timeless, but LED is better
You can purchase standard signs that say "open" and "closed," or custom-design virtually any text or shape out of neon, colorized any way you like. Neon is especially visible at night, drawing after-hours attention from storefront passersby. But neon lights are expensive and fragile – appropriate only for locations within your store that are well out of reach and other potential harm.
Why hassle with that? If you love the look of neon, you'll really love the fact that you can create the same visuals with LED lighting. LEDs are much more versatile than neon, plus they burn cool and last a very long time. LED lights come in a wide variety of styles, from strings of twinkly lights to larger bulbs with flexible lighted tubing. And if it's color you're looking for, LED will light you up.
You can spotlight signs with any type of lighting. But you can frame them with tiny LED lights, or use lights to form the words and graphics.
Go digital
Technology gives you even more creative options when it comes to lighted signs, because digital signs are customizable. They can be static, flash, or scroll messages that promote new or featured products or announce surprise in-store sales. You can incorporate animated graphics or video – the ultimate eye-catcher.
So get creative! Light up your traditional signs, and use lights to create unusual signs. Either way, lighted signs will brighten customer interest in your retail space.