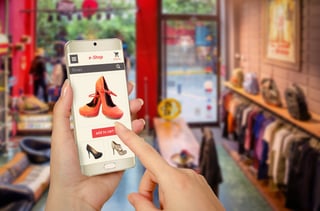 Shoppers are increasingly buying online. Everyone knows this. Amazon has now surpassed Wal-Mart as the world's largest retailer, right? But wait. Amazon just opened their first-ever retail storefront, in New York City. As a retailer trying to compete in a fiercely demanding environment, what should you conclude from that?
It's an omnichannel world
Consumers have gleefully embraced every available shopping avenue and device. They tend to use different channels depending on where they are on their decision-making journeys. They love technology, but they want to touch and try before they buy. And, above all else, they want to do things their way.
Retailers need to see the light or fade out
Transforming your store into an omnichannel shopping experience for customers is the latest trend. If your clientele are blending online and in-person options to research and purchase products, why not make all (or at least more) of those opportunities available to them in-store?
Crate & Barrel is giving it a try, with a pilot project. As customers enter the store, they're given a tablet they can use to look up product information and mark items as favorites. Optionally, customers can exchange their email address for a chance to purchase any of their selected items before leaving the store, via a dedicated checkout line. A sales associate will gather up the items for them.
Some other retailers allow shoppers to purchase in-store but have merchandise delivered. Or purchase online for in-store pickup. Or use an in-store kiosk (or the customer's own smartphone) to access product details and availability information or even create customized products. Others are offering exclusive coupons to shoppers using mobile devices.
Your kiosk is no different from a larger brick and mortar store. You can find ways to incorporate these same creative, trending tactics to attract more customers and increase sales, although you may have to scale your efforts to fit your space.
Should you do that, or is omnichannel just the latest fad?
Not according to the Harvard Business Review
After an extensive study of consumer behavior, HBR has concluded that omnichannel retailing works. Nearly three-quarters of study participants were omnichannel shoppers. HBR found that the more channels a shopper used before buying, the more they spent in-store.
What channels? It turns out shoppers love to use whatever "touchpoints" you have to offer – special apps, digital tools, physical and online venues. That's good news when it comes to choosing omnichannel features for your kiosk.
And if you're one of those retailers who has been lamenting customers who practice showrooming and webrooming, note that omnichannel shoppers are also more loyal – more likely to buy again (soon) and more likely to recommend your kiosk to others.
Love the omnichannel concept but not sure how to logistically incorporate interactive opportunities into your kiosk? Just give us a call. Palmer Retail Solutions has an entire team of experts who know all the latest technology and retail trends and who know what it takes to design kiosks that appeal to today's multi-channel customers.