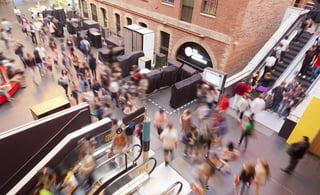 Another holiday season is in the books, and what a relief it is! We know you and your employees are probably drained, but there's no time to sit around. If you're hoping for a bang-up 2017, you need to keep the sales momentum going. That means attracting foot traffic back into your store.

Shoppers are weary and battle-worn, too. Nonetheless, some are already flocking back — to trade-in their returns for something more appealing and see first-hand what's on your clearance shelves. But you want them to buy new merchandise, too. And how can you get more people up off of their nice cushy furniture to come in and shop? By giving them an experience they can't get at home. Or in another store.
First of all, freshen up.
After being besieged with shoppers the past few weeks, your store probably looks a bit trampled. Scuffed fixtures, maybe a few dust bunnies lurking in the corners. Ugh. It's time for a clean-up. Touch up an old paint (or give a few fixtures a new accent color). And do something fun – and definitely non-holiday – with your storefront window. There are plenty of seasonal or store-specific themes you could use. Whatever you choose, continue that theme in your visual merchandising throughout the store.
Then promote, promote, promote.
Unique, eye-catching windows should bring in some foot traffic — either off the sidewalk or from your mall's common area. But marketing is really the key to enticing in-store shopping. So think digital.
Add a new technology, and invite regular customers to be the first to try it out. That could be something as simple as click-to-pay with their smartphone, or as trendy as a kiosk that allows them to custom-design their own product right there in the store. Give them a use-right-now discount or gift in return for their feedback.
Create a targeted email campaign to bring back first-time holiday shoppers. (You did collect their email addresses, didn't you? If not, make this Priority #1 for 2017.) Create a separate campaign aimed at your regular customers. Emphasize your loyalty rewards program – and offer extra points for January purchases. Offer coupons that require in-store redemption.
Host an event, alone or in conjunction with a neighboring business, community organization, or local artisan. Demonstrate a new product, or sneak-preview spring merchandise. Invite the public, or make it for regulars only. Include a bring-a-friend offer to boost attendance and reach new customers. Use social media to get the word out (or target a specific group of followers).
Shower them with personalized service.
Did you offer in-store pickup of online orders during the holidays? Make that permanent — it's hot with customers right now. And remember that what customers want most is an experience that's convenient, distinctive, and all about them. The more ways you can personalize your store, the better.
Clearance sales are great to sweep away the last of your holiday goods. But focusing on a fresh start and inventive ways to serve customers will generate the greatest foot traffic.