Get your business out of a retail slump.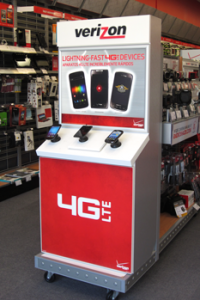 The retail sector is fickle. What do you do when the daily sales receipts are down? Palmer Retail Solutions brings you some tips to survive a sales slump by focusing on your endcaps.
Keep Consumers Interested
Customers will keep coming back if you can create an atmosphere that presents new experiences when shopping. This is where endcaps come into play. Increase your profits by maximizing the effectiveness of your endcap displays. Good store planning can make all the difference.
Change out products on endcaps frequently. Keep repeat customers engaged by giving them something new to grab their attention.
Rearrange your endcaps. Moving the placement of endcaps around the store keeps the layout feeling fresh and new.
Place endcaps near complementary products. Increase your chances of an add-on sale by enticing buyers with the perfect pairing.
Listen to the customer. Feature items in endcaps that have been consistently requested by customers. If sales are slow, this leaves you with more time to spend with each customer and ask meaningful questions.
Move sale items to the back. Your endcaps are there to attract and highlight new products. Show off your best selling items and move your slow selling items to the back. First you need to attract customers into the store. Then you can offer sale products.
If you have additional questions about end caps, connect with us at www.palmerretailsolutions.com. Keep current with industry discussions and product information on Twitter: @PalmerPRS. Palmer derives great satisfaction from designing unique retail solutions that incorporate maximum functionality, ergonomics and offer long-lasting service.
Palmer Retail Solutions strives to offer our clients the absolute best combination of innovation, quality, service, and value for our diversified custom store fixtures and merchandising displays. For more information about our designs, retail fixtures, cash wraps, kiosks, or point of purchase displays, visit our website at http://www.palmerretailsolutions.com.