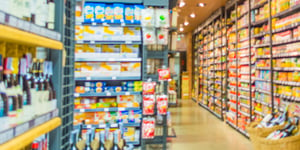 Of all the "geographic" locations within your store, end caps are proven winners when it comes to selling merchandise. It's easy for shoppers to zero in on end cap displays as they scan the store, and they pass end caps as they make their way around. Every type and size retail operation has aisles, and every aisle has an end. That gives you multiple opportunities to maximize sales.
So, are you making the most of those opportunities? Keep in mind that the reason internet-addicted customers still love to shop in-store is because of the comprehensive, multi-sensory experience. Happily, those experience-seekers are also dedicated impulse shoppers. Well-designed end cap displays will attract them like bees to honey. Here are some best practices to create lucrative displays.
Strong Color and Eye-Catching Design
To be big sellers, end cap displays must stand out and shout "buy from me!" The less it looks like a stack of stuff, the more intriguing it will be for shoppers. Try these tips when it comes to color and design.
You don't have to use fixtures with shelves to create stunning end cap displays. Anything that will hold your merchandise has potential. For back-to-school, use old school desks and chairs to hold larger items, book bags or colorful "wastebaskets" to hold smaller loose items. Or make your display look like a huge crayon box.
If you're using product cartons as the foundation of your display, repeat the key colors in your signage, too. Consistency makes your end cap bolder and more attractive.
Signage should be big, bold, and instructive, with a clear call to action. Not "New Bath Towels," but "Feel Me!" Or make them an offer they can't refuse: "30% Off, While They Last."
Less Variety, More Depth
Much like a mall kiosk, end caps perform best when they offer less variety, more depth. Don't just throw anything on your end cap. Too much choice confuses shoppers. There needs to be a point to your end cap. So, choose a variety of the same product or similar products. Here are some other tips, too.
Feature items that aren't too large, and stock them deeper than usual, to avoid having to restock frequently.
Stock wide, too, for can't-miss visual impact. Multiple facings or an entire shelf of one item will create a strong horizontal effect — a "banner" made of the products themselves.
Remove an item or two from the facings, so it appears shoppers are already snapping up your excellent offer. That motivates others to follow suit before it's all gone.
Go Digital
Electronic endcaps can be ultra-effective for two reasons — they draw the eye with visual movement, and they practically beg for interaction. In this digital world, we just can't help but reach out to use available electronics. End caps are the ideal location for this stop-and-check-it-out option because there is more room for shoppers to comfortably spend time without blocking an aisle. By using technology, you can:
Incorporate digital displays or how-to-use-me videos.
Provide touchscreens to look up product information or custom-assemble a product.
Strategically position a free-standing kiosk as an end cap.
Keep it Fresh
Shoppers quickly go blind to displays they've seen before. So, change up the merchandise and offers often. You can also create a sense of movement and excitement throughout your store by moving successful end cap displays around from time to time. That ensures customers who typically frequent only one area will have an opportunity to shop your end cap.
Shoppers want good deals, they want to be first to buy new products, and they want to feel, smell, taste, and try the products. End cap displays can capitalize on all that, in a big way. Don't settle for mediocre end caps that get passed by. Create one that stops shoppers in their tracks.