7 Tips for Loss Prevention on Black Friday
Many people believe Black Friday got its name because it's supposedly the first day during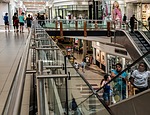 the sales year when retailers can finally see a profit. Whether that story is true or not, it takes a smart loss prevention plan to make sure those Black Friday profits materialize. Sadly, industry experts say shoplifting and employee theft are equally significant risks.
Fortunately, you can take steps to protect yourself from both of them. Here are seven Black Friday loss prevention tips to keep you in the black:
Stagger the start times for your hottest promotions. Whether you're opening on Thursday evening, or the traditional early-morning opening on Friday, you can take a lesson from the big retailers who now stagger their big promotions. Spreading out promotions spreads out crowds, improves safety, reduces the possibility of shrinkage, and makes life a bit easier for both shoppers and employees.
Technology tools such as video surveillance, special tags, etc. can help.
Employ hiring practices that carefully vet temporary holiday employees as well as permanent ones.
Plan for visible, vigilant oversight.
Stress loss prevention awareness and training. Extra training for all employees leading up to Black Friday will also carry over nicely into the busy holiday shopping season.
Adequate lighting and good line-of-sight throughout your store eliminate hiding places.
Use professional uniformed personnel to assist with crowd control and monitor entrances and exits.
Prevent Retail Theft with Crowd Control
Shoplifters and employees steal for a variety of reasons, including simple opportunity – which can becomes readily available with the influx of huge crowds on Black Friday. That means crowd control is an important ingredient to prevent holiday theft. Well-planned crowd control can help you reduce the risk of vandalism and injuries as well as helping control shrinkage.
Shoplifters themselves say attentive salespeople and managers can be your biggest deterrent to theft on both the "big day" and every day. And of all the Black Friday loss prevention tips out there, that's your best advice for another reason: Having plenty of people on the floor keeps your customer service in top form. Shopping in your store may be chaotic on Black Friday, but you can still create a great customer experience.

Palmer Retail Solutions strives to offer our clients the absolute best combination of innovation, quality, service, and value for our diversified custom store fixtures and merchandising displays. For more information about our designs, retail fixtures, cash wraps, kiosks, or point of purchase displays, visit our website at: http://www.palmerretailsolutions.com.