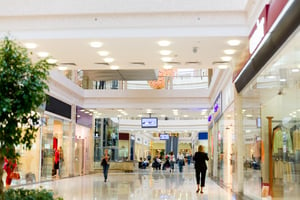 Approximately 42% of U.S. consumers research products and services online and buy online as opposed to the 14% that prefer to research online but buy in-store. That's a large online customer base. But what does that mean for mall kiosks? How do you run a successful mall kiosk in an internet-driven world?
You can do it, and there are several ways you can approach carving out a distinctive, profitable niche for your mall kiosk. Here are some ideas to help you compete with e-commerce.
Market Smarter to Mall Customers
Are you capturing customer email addresses so you can send periodic notices about your latest products or specials? Make those offers exclusive, and people will be happy to provide their address. Encourage customers to follow you on Facebook, too, and use that platform to offer news and specials.
Merchandise Smarter, Too
It takes the right selection of products at the right pricing to make a mall kiosk successful. Don't copy anything that is available elsewhere in your mall, focus on complimentary products or something entirely different. Remember that the vast majority of mall kiosk purchases are impulse buys.
Periodically refreshing your product lineup with new items keeps things visually interesting and gives you a reason to invite previous customers back.
You are Part of the Mall's Competitive Advantage
What makes your kiosk special helps make your mall special. Mall operators know that. Malls are fighting harder than ever to attract and retain shopper interest, many actively encouraging pop-ups and promoting kiosks within their space. The more you do to make your kiosk successful, the more popular you'll be with mall management.
Go Online Yourself
People continue to visit malls to see what's new, so you can expect to see that foot traffic. But multi-channel retail is the only way to attract customers wherever they're shopping. By creating your own online presence, you can introduce your kiosk's brand and wares to more people. You can increase sales — with higher profit margins, thanks to no internet overhead — giving you more overall revenue to pay the costs of your mall location.
You can create a formal e-commerce site. Or you can sell via Facebook, eBay, or Etsy, all of which are far less costly.
People Still Like to Shop in Person
As popular as online buying has become, the reality is that brick-and-mortar stores have allure that no internet "store" can offer. That includes your mall kiosk. For example, customers can see, touch, sniff, and/or taste your merchandise. Try that online. They can feel the ambiance of your surroundings, however compact. And they can get personal advice and assistance from you or your friendly associate.
Keep that in mind as you consider these ideas to make your mall kiosk successful in spite of the internet. (And keep in mind that, ultimately, your success may depend on beating your mall competition, not the online alternatives.)
With unique products and smart merchandising and marketing, your mall kiosk is sure to be a success.