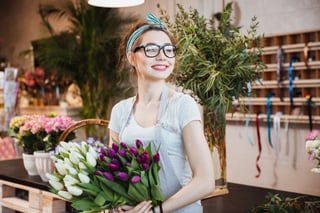 Visual merchandising may be a key to retail success, but don't overlook the role other senses play in your customers' in-store experience and decisions to buy. Incorporating seasonal sensory cues can motivate shoppers to snap up your spring sale items, and entice them to zero in on the season's newest arrivals, too.
Sensory cues work in two ways to help you reach spring sale goals:
They create a comfortable, inviting in-store ambiance. Customers who stay longer are more likely to buy.
They entice shoppers to investigate your store more thoroughly, following scents or sounds to see where they're coming from.
Spring is the season of renewal. The air is warmer, leaves emerge, birds return to sing — it's the perfect time to appeal to all five senses.
SIGHT
Build a colorful, fragrant display near your entrance that immediately gives customers a multi-sensory welcome. Refresh your fixtures with seasonal pastels. Repeat the colors and motifs in your signage, and feature merchandise in spring colors in your displays. Use small potted greens and spring flowers as props. Create a digital "garden" mural for one wall.
SMELL
If your merchandise is naturally aromatic, flaunt it. If not, you can strategically place "scent notes" around your store using scented candles, colorful candies or fragrant spring flowers such as daffodils, hyacinths, or narcissus. Or choose a single spring fragrance to create a subtle scent signature for your store. Don't forget to use it in your restrooms and dressing rooms, too.
SOUND
Some larger stores use music or other sounds to separate departments and give them a distinctive feel. Background music works for most any store, as long as it's compatible with your products and clientele.
TOUCH
From the time we're babies, we want to reach out and touch things. Encourage customers to pick up and feel your merchandise by featuring your most touchable items. Add a sign that says "try me!" Put spring sale goods in baskets or bins shoppers can dig through.
TASTE
Samples are irresistibly tempting, so set out bite-size tidbits of your newest confections or menu items.
Offer more formal tastings of packaged foods and beverages — shoppers are willing to spend more if they can taste a new product first. Freshly-brewed coffee or tea and a plate of small cookies feel homey, appealing to senses of smell, touch, and taste.
It's a matter of psychology.
Our senses work together subconsciously to evoke mental pictures and emotional responses, creating a whole-body experience. Combining visual and aromatic cues encourages shoppers to touch products and influences them to buy. People holding a warm beverage have more positive perceptions. But don't go overboard – the senses work together in subtle ways, and overpowering scents or sounds can be off-putting instead of enticing.
Everyone likes a good spring sale, but bringing your store to life with seasonal multi-sensory cues will not only motivate bargain-hunters, it will excite customers to shop for what's "in season."