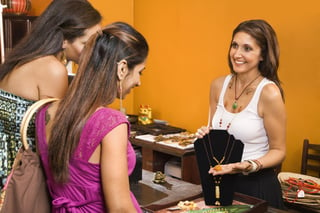 If you have a store, you have point of purchase opportunities. It's that simple. Whether you are a grocery store, restaurant, or auto dealer, the place people pay is a place people can be influenced – especially for impulse purchases. So, given the growing bottom-line contribution of impulse purchasing, it more than pays to create point of purchase displays that will sell for you as effectively as possible.
POP displays deliver excellent ROI:
They are comparatively inexpensive.
They can reinforce or even replace traditional advertising or promotions.
They are consumer-focused and highly targetable.
It's easy to assess their performance.
Busy shoppers like POP displays that allow them to interact and serve themselves. It's more personal and more convenient. As the store owner/manager, however, you want customers to linger longer, because that makes them more likely to buy more.
Well-designed POP displays can fill both needs, by grabbing your customer's attention and drawing them to specific products or other areas within your store, then making it easy for them to inspect merchandise up close and make an on-the-spot selection.
Step up the salesmanship of your point of purchase displays.
Many types of retailers are able to take advantage of manufacturer-created "sales boosters" or entire stand-alone units. Be sure that third-party displays are a perfect fit for your store and clientele, and that they are sized appropriately for their revenue-generating potential and your space.
Of course, you can create your own POP displays. They don't have to sit on the floor or a shelf – think about where customers will be most likely to see them as they are browsing or moving around. Table-toppers, especially with mouth-watering photos, are ideal for bars and restaurants to promote appetizers, desserts, and specialty drinks. And don't forget the checkout counter, always a potential gold mine when it comes to impulse sales.
Simplicity sells. Use bright, fun colors or eye-catching shapes and short, easy-to-grasp messages. Display complementary products or accessories customers can pick up to "complete" their purchase. Bundle related products at a special price, or do a BOGO (buy one, get one) promotion. Packaging that incorporates a direct offer such as a discount coupon to use right now is current popular with manufacturers (and consumers), so create a display that lets the products speak for themselves.
If you're displaying an advertised product, include a photo of the display in your ad, so shoppers know what to look for.
Point of purchase marketing needn't be a traditional display:
Electronic signs can show pertinent messaging, photos, or video that points shoppers to items located nearby.
Customer-activated videos can show more product options than you have room to display "in person."
Consider how you might adapt the concept of shopping cart advertising used by grocers to your merchandise and shopping environment.
Broadcast "radio" commercials to shoppers throughout your store.
Hanging strips are particularly valuable, because they sit at eye level, where customers cannot miss them. You can also use danglers or mobile displays to attract attention without sacrificing floor space.
Big box store or tiny boutique, using point of purchase displays effectively can endear you to customers and grow your sales.
Palmer Retail Solutions strives to offer our clients the absolute best combination of innovation, quality, service, and value for our diversified custom store fixtures and merchandising displays. For more information about our designs, retail fixtures, cash wraps, kiosks, or point of purchase displays, visit our website at: http://www.palmerretailsolutions.com.