How to best use kiosks for an interactive retail experience.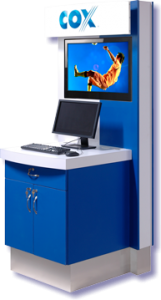 The retail business is quickly being transformed by the selling power of the interactive experience. In interactive stores, like Apple, a combination of screens, tablets, laptops and phones are utilized to engage and educate consumers. When choosing to deploy an interactive retail kiosk, there are important details to keep in mind to optimize the user's experience.
Interactive Retail Experience
It's about the customer. Everything from onscreen content to aesthetic and ergonomic kiosk design needs to be implemented with the customer in mind. Address the needs of your customers. Go beyond simply offering web portals, an application many phones already have in place. Make it simple for customers to get information, and let them quickly complete transactions to optimize their in-store product browsing time.
Kiosk placement. Locate systems where they are convenient, highly visible, and coordinate well with the surrounding décor.
Keep it simple. Self-service kiosks are becoming more popular, but that doesn't mean all your customers will be technically savvy. Present content clearly and efficiently. Make is as easy as possible for customers to find the information they need. This will result in more sales.
Take the time to test the system. There is nothing that ruins a customer's experience more than poorly written software and unmet expectations. Your kiosk network should incorporate a remote-management system that you can monitor for signs of trouble. Finally, confirm that the system is secure, will properly protect and keep private personal customer information, and make sure it is reliable.
If you have additional questions about the kiosk as a retail solution, download our eBook outlining important things to know before opening a kiosk. Keep current with industry discussions and product information on Twitter: @PalmerPRS. To connect with us you can visit our website at www.palmerretailsolutions.com. Palmer derives great satisfaction from designing unique interactive kiosks that incorporate maximum functionality, ergonomics and offer long-lasting service.
Palmer Retail Solutions strives to offer our clients the absolute best combination of innovation, quality, service, and value for our diversified custom store fixtures and merchandising displays. For more information about our designs, retail fixtures, cash wraps, kiosks, or point of purchase displays, visit our website at http://www.palmerretailsolutions.com.