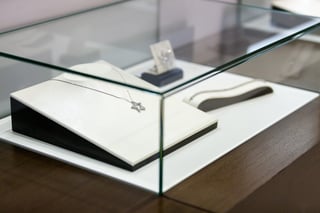 Every retailer worries about loss prevention, but when your merchandise is small enough to fit easily into the palm of a hand or a pocket, there is even more to worry about. Add the fact that jewelry and watches can carry very high price tags, and security becomes a critical issue. With the right jewelry showcases, you can present your merchandise beautifully without putting it at risk.
Thieves can strike quickly in the night.
Jewelry stores are favorite targets for smash-and-grab artists. These thefts are often called "three minute burglaries," because perpetrators can smash a window, enter the store, smash cases (or simply scoop up items) and go – all in less than three minutes.
David Sexton, vice president of loss prevention at Jewelers Mutual Insurance Company, says jewelers themselves are partly to blame, because they're approaching security in the wrong way. What does he recommend instead?
Emptying jewelry showcases overnight (even locking ones), because "out of sight, out of mind" really does help deter thieves. If you can't fit everything in your vault, he suggests using a smaller safe, cabinet or drawers – lockable closed storage.
Portable cases or individual trays that can be rolled or carried as-is into the vault.
Showcases whose upper display section rotates underneath for storage, leaving the visible top section empty. These innovative units are surprisingly affordable.
But what about when you're open for business?
Light-fingered bad guys posing as customers and even employees can cause significant losses if jewelry isn't displayed wisely.
The most obvious security solution to protect jewelry during sales hours is an enclosed showcase that locks. These showcases can be custom-manufactured in many different materials and in virtually any shape or size, from floor fixtures to wall-mounted or countertop models. You can easily match your store's overall ambiance and still secure your merchandise.
Display cases can be made with security glass, but acrylic offers far more advantages, both for security and aesthetics. Acrylic is much lighter than glass, but it is highly impact-resistant. It can be coated to resist scratches and fingerprints – ideal in an environment where shoppers want to examine items "up close and personally." Acrylic is also a tremendously versatile building material.
Google Business View presents new security concerns.
Today, businesses can add virtual tours of their interior for shoppers to view online. Google displays them on your Google My Business page and elsewhere with the local listings, and you can post them on your own website, etc. Unfortunately, this could also be a great way for potential thieves to case your store. Foil them during your photography session by:
Closing off all non-public parts of your store.
Blurring out all vestiges of your security and alarm systems.
Not showing customers.
This will keep thieves from seeing how your store is protected or how to dress to masquerade as a customer.
Loss Prevention Requires More Than Secure Jewelry Showcases
You need to protect your entire store as well as the jewelry itself. There are many ways to do that no matter the size of your store or your budget, from simple doorbell chimes to full-on surveillance systems. Always check before you leave to be sure your security system is working properly because it won't do you any good if it's on the fritz.
Thoroughly train new employees, and provide periodic refreshers for existing ones, especially as peak sales periods approach. If your staff knows how to "sell with security" during the busiest times, they'll be prepared to do that every day of the year. Jewelers Mutual University offers comprehensive security training.
The cost of theft is higher than you might think. Aside from the monetary value of pieces stolen, you'll have to pay to repair or replace damaged display cases, windows, etc. While you're closed for that, you'll lose sales. And you'll have to purchase new inventory to replace lost merchandise. Investing in the right showcases and in-store procedures will significantly reduce those risks, without sacrificing visual merchandising or customer engagement.
As a jewelry store, you'll always have security concerns. But when you choose the jewelry showcases, you'll have greater peace of mind.
Palmer Retail Solutions strives to offer our clients the absolute best combination of innovation, quality, service, and value for our diversified custom store fixtures and merchandising displays. For more information about our designs, retail fixtures, cash wraps, kiosks, or point of purchase displays, visit our website at: http://www.palmerretailsolutions.com.