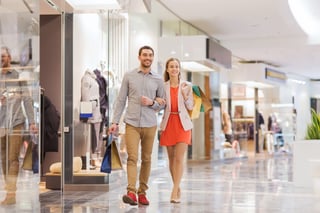 A kiosk business is really just a miniature retail store, right? Well, not quite. While there are many obvious similarities, kiosk merchandising and in-store merchandising have some notable differences.
Here are the biggest differences.
The Method of Attracting Customers
Customers willingly walk into traditional stores because they are already familiar with the brand, or they are drawn in by enticing window displays or other advertising. You may occasionally run into pushy sales clerks inside, but by and large, those days are long gone. On the other hand, aggressive sales tactics among kiosk vendors are legendary. Even if it's just an old-school reputation, shoppers hate it. So do malls. And since you want shoppers and your mall to love you, you cannot work the hallways — verbally or physically — to rope people in.
Instead, hire and train employees carefully. Look for candidates who are friendly and outgoing. Once you find the right people, be sure to train them on these three things:
Make eye contact, offer a friendly smile, and say, "Hello."
Ask questions and listen.
Know the products in detail. Your employees need to answer questions and make recommendations that help customers choose the products best for them. You can sell a lot more by being helpful than by exhorting people.
Types of Product Displays
Remember that storefront window? Your kiosk is essentially a 360-degree window. So, the most effective kiosk merchandising draws customers from every angle. You don't have to reach out and grab shoppers because your displays grab their attention for you. People will pause to browse as willingly as they enter a store.
What works best?
Bright, appealing colors that set your displays apart from the mall hubbub
Identical displays on different sides, so every approach clearly shows what you have to offer
Interactive displays – a video loop that shows multiple variations of a product or briefly demonstrates how to use or wear it, or touch screens that allow self-help
Much like a brick-and-mortar store, it's best to rotate merchandise and change displays often to generate a sense of excitement and newness, even among frequent mall shoppers.
Promoting Your Business
Advertising and promotions work as well for kiosk merchandising as they do for larger stores. Collect customer emails and send product updates and special offers. Do the same with social media. Participate in mall-wide events and promotions. Getting the word out brings customers back and brings new people to your kiosk.
Trying to snare customers no longer works. But you can't just sit there waiting for people to stop, either. They won't. Instead, find your own personal happy medium. Take these tips to heart, and your kiosk business will take off. (Note that these tips are just as effective for other types of non-traditional sales units, such as farmers market stands, pop-up shops, etc.)
And remember, the one thing kiosk merchandising and in-store merchandising have in common above all else: success comes from giving every customer a great shopping experience. If they love your product and love the way you treat them, they will be back.