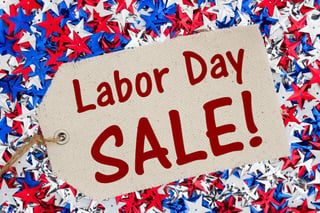 With Labor Day just around the corner, a lot of people may have shopping plans for the long weekend. Naturally, you want them to plan on shopping at your store. And for those who have other plans for the long weekend itself? Naturally, you want them to stock up on whatever they'll need – at your store.
So let's look at ways you can get those last-minute shoppers in the door before or during the Labor Day weekend.
Obviously, the most inspiring deals will tie your products to whatever is top-of-mind with your customers right now:
Are they finalizing back-to-school shopping for the kids?

Are they getting ready for three days of outdoor recreation?

Are they preparing for an annual family reunion picnic? Or hosting a BBQ bash in their backyard?
They're going to need supplies. They'll want to look good and feel comfortable. Some Labor Day promotions are great ideas, no matter of what you sell. No matter how you approach your Labor Day deals, emphasize convenience, value, and FUN.
Hold a photo contest. Invite customers to take a selfie in-store with their purchase, then upload it along with a photo showing them using or wearing it over Labor Day. Let followers or website visitors vote for their favorites, and reward the winners with a special discount on new fall merchandise and an in-store photo display.
Hold a "last chance for summer fun" sale. Promote end-of-season clothing, outdoor gear, etc. to clear the shelves in preparation for the new season.
Hold a "head start on fall" sale. Decorate with little footballs and pompoms, and feature merchandise in the colors of your local high school or college teams.
Group up with retail neighbors for an always-popular sidewalk sale. It may be your last chance this year to take your goods outdoors.
Hold a "thank you" you drawing. Let customers enter once for every $10 they spend during the week leading up to the holiday, and draw the winner's name live on Labor Day. Make it an event, with refreshments and small giveaways for everyone who attends.
Do an exclusive promotion – only for

loyalty program

members, Facebook followers, or a certain segment of your email list.
If your store will actually be closed on Labor Day, flaunt your love for workers everywhere in displays and with special pre-weekend specials. Be sure to celebrate your own staff most!
Create

"full kit" displays

that make shopping a snap for busy customers -- everything they need for that picnic or BBQ, recreational activity, or killer outfit. Offer bundled pricing.
And, whatever you offer in the way of Labor Day deals, don't neglect impulse items such as sunscreen, lip balm, sunglasses, water bottles, or snacks.
Whatever your customers are planning, the final days of summer are an ultra-busy time. With everyone on the move, mobile and social promotions are a must. The more you incorporate Facebook, Twitter, texting, email, and your website, the more likely you'll be to capture attention and motivate a response.