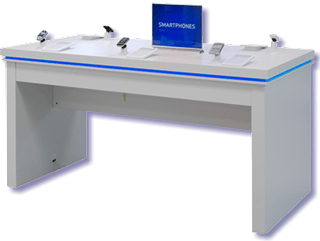 When it comes to new technology devices, customers love to try them out. While it's great to give them access, it also makes those products more vulnerable to theft. And theft is a problem no retailer can afford to ignore.
Last year, American retail inventory losses totaled $48.9 billion. Shoplifters account for 36.5% of missing inventory, at an average cost of almost $800 per incident. Sadly, employees are responsible for another 30%, costing over $1900 per incident. Tech products, especially wireless devices and small electronics, are particularly popular with thieves because they're valuable, lightweight, and easy to conceal.
Taking steps to deter individual shoplifters and gangs of thieves – including announcing your intent to prosecute anyone caught – also sends a clear message that you are serious about protecting your merchandise and business. On the positive side, training employees how to spot thieves and how to take appropriate action is one of the best ways to prevent problems.
"Under glass" doesn't always work for tech products
Putting technology products in locked showcases can be counter-productive. That works great in jewelry stores, where customers expect a personalized "demo" with a sales associate. With electronics, though, customers want to play around with devices on their own. That's why Palmer Retail Solutions invented the one-of-a-kind CELLMATE security system.
CELLMATE reliably secures small electronics to your fixture, yet there is plenty of "play" so customers can easily handle and try out live devices.
The key to theft prevention in technology retail is visibility:
Place your checkout counter near the entrance, to easily see (and greet) people entering and leaving.

Arrange store fixtures so you have good cross-store sight lines. Light dark corners or place mirrors so you can see everywhere, or reconsider your layout to eliminate these issues.

Eliminate clutter. The better organized your store and the tidier your displays, the easier it is to spot of something is missing. Likewise, keep merchandise on shelves "faced" – with an even row of items along the front of the shelf. This also makes it easy to see gaps.

Strategically post signs that state theft isn't tolerated in your store. You can phrase it in a friendly way so as not to offend your clientele, but use "eyes" as a visual. Studies show this doubles signage effectiveness.
Use POS technology to track your inventory
Any retailer that sells technology products should understand the value of using the latest tech systems. Automated inventory tracking offers numerous benefits, including the ability to accurately detect losses and pinpoint causes. That's the first step toward better loss prevention.
Nobody knows more about displaying electronics than Palmer
We've been designing and building fixtures and specialized displays for wireless electronics since cellphones hit the market. We understand you need enticing, branded aesthetics as well as functional fixtures that fit your products. But we also know protection is a must. If it's time to boost loss prevention in your store, let's talk.