Tips for Happy Employees on Black Friday
Black Friday may be a dream come true for retailers hoping to kick off the holiday shopping season with a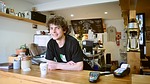 profitable bang, but it's a long, grueling experience for your employees. And now that many retailers – and not only the biggest stores – open on Thanksgiving Day instead of waiting until the clock strikes "Friday," your people may have even more to grumble about. But you can make your Black Friday go smoother, and make your employees a lot happier, with some well-placed appreciation.
Here's how:
Training alleviates many problems.
Even the most temporary of Black Friday employees require training. With the Big Day just around the corner, some last-minute refresher training for all employees can be helpful. Focusing on key store safety and customer service points can help sidestep the problems often associated with excessive crowds inside and outside the store and excessive excitement. This ensures good communication between staff and management.
They're hoping to staff their Black Friday and Thursday positions with volunteers as much as possible, rather than forcing people to work when they'd rather be home with family or friends. Popular incentives include overtime pay, special holiday pay rates, double shift payments, increased or expanded employee discounts and – you could have guessed – traditional turkey and trimmings served during meal periods.
Some employers let their staff wear jeans and sneakers to make the long day more comfortable. If you can't recruit enough volunteers for the undesirable work slots, your incentives will at least make it easier to find and hire quality temps to help get the work done.
Giving thanks goes a long way.
No different than any other day of the year, Black Friday employees will work harder and keep smiling if they know you care how hard they're working. Extra financial or food perks aside, a simple "thank you, hang in there" can go a long way.
Cashiers are your last customer contact. They must be at their best.
Floor employees will be watching to curb theft opportunities, but cashiers are your only line of defense when it comes to things like credit card fraud and attempts to pass counterfeit currency. These problems can be more pronounced on Black Friday, because the bad guys expect your cashiers to be harried and, therefore, less attentive. Don't let that happen.
Here are some more ideas during the holiday chaos that you and your cashiers can implement to make Black Friday flow as smoothly and comfortably as possible.
Do everything you can, and get creative if you have to, to keep Black Friday employees working smoothly and happily. Their smile and positive attitude in the face of exceptional chaos is your link to a better customer experience, something that has a profound effect on your year-round profitability.


Palmer Retail Solutions strives to offer our clients the absolute best combination of innovation, quality, service, and value for our diversified custom store fixtures and merchandising displays. For more information about our designs, retail fixtures, cash wraps, kiosks, or point of purchase displays, visit our website at: http://www.palmerretailsolutions.com.