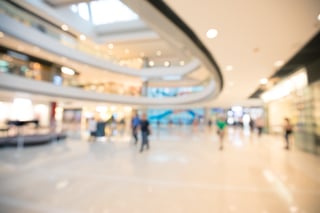 How you design your mall kiosk determines how well your business will do. Bring together the right combination of elements, and you can succeed beyond your wildest dreams. Include the wrong elements, and you may fail. Mall kiosk design is as much an art as a science, so beware of the elemental mistakes outlined below.
Don't overdo it.
Mall kiosk design has to be pared down, given your limited footprint. Going big in any respect will be out of scale and unappealing to your prospective customers. Your kiosk should have a simplified structure that allows you to fully show off your products, from every viewing angle.
The kiosk's compact size can make the design more complicated, notes Jim Palmer, President of Palmer Retail Solutions. An experienced pro like Jim can help you determine whether you need an entirely customized design, or if you can take advantage of existing modular components to create a just-for-you design. Uniqueness and clear branding are essential to draw customer interest, but efficient functionality is essential for you and your employees.
Don't choose the wrong products.
Certain things sell better from kiosks than others. Experts say items in the $15-$30 price range sell best, and that you should devote 80% of your kiosk to your top 10% strongest selling items. The most important factor is choosing a product line that is not available elsewhere in your mall. You'll need to nail down this decision before you can consider the details of your mall kiosk design, because size, configuration, and appearance all have to complement your merchandise.
Don't settle for a weak location.
A killer design and an outstanding product line won't assure success if your kiosk is poorly located. Invest the time to ask questions and see for yourself the demographics of the mall(s) you're considering. Placement within the mall matters, too. You want to be near bigger retailers that draw customers like yours, to help increase the likelihood those approaching your kiosk will be interested in your wares.
The mall is your home, so mall management will be your landlord. They get to approve your kiosk's design, your merchandise selection and your marketing plan. It's important to note that every mall has its own unique set of criteria. In addition to meeting their detailed design requirements, you'll have to convince them you have what it takes to be an asset to the mall's ambiance, product diversity and profitability.
In addition, many municipalities have permitting and certificate of occupancy requirements of their own. They can be very picky, as can mall managers. There are about 1400 malls around the country, although a majority are controlled by the six largest management companies. The lower tier malls typically have minimal criteria, but they also have lower-end anchor stores.
"Don't touch."
You want shoppers to pick up your products to examine them more closely. See how they work. Try them on or sample them. Mall kiosk design that doesn't encourage hands-on interaction won't sell as well as a space that invites engagement. Touchscreens, demo videos, etc. can significantly enhance your kiosk's drawing power.
Don't short-change your marketing.
While marketing isn't technically a design element, it is business-critical. You can't sit back and expect your mall's general advertising and promotions to be enough. Those things draw people to the mall, not necessarily your kiosk. Establishing your unique brand and marketing to your own target audience should be top priorities within your business plan.
Industry statistics show that, on average:
20% of mall shoppers will notice your kiosk.
15% of them will stop and browse.
Maybe a quarter of them will buy something.
So, if 500 people pass your kiosk in an hour, you'll probably generate three or four sales. It's easy to see that a little kiosk design boost here and there can have quite an impact on your total revenue.
Don't forget about your staff.
There is one final element that gives your mall kiosk design that all-important personal touch – your salesperson. The wrong person can squash shopper interest in a heartbeat, whereas one who is friendly, helpful and appropriate for your products and customer type can increase overall sales handsomely and consistently.
The best way to avoid mall kiosk pitfalls is to choose the right kiosk manufacturer.
Beyond helping you design a kiosk that will serve as a stand-out sales tool, they can guide you through the mall kiosk approval process.
According to Jim Palmer, president of Palmer Retail Solutions, "Many companies prefer only to make kiosks, as opposed to doing the white collar work to support the kiosk function. They really don't want to get involved in the mall approval process or any permitting that may be required, so they discourage that by charging prohibitive fees for the work."
Palmer performs this work on behalf of clients as a standard part of the kiosk design process, because clients aren't likely to have any sway or any experience working with the mall management company themselves. It's a multi-step process, designed to shorten the approval timeline:
Designers determine what the prospective client will be selling, to create something that fits. That may start with an off-the-shelf design, or the kiosk may be designed entirely from scratch.
Kiosk department contacts the mall's tenant coordinator, to learn if there are any unique criteria for that mall.
Once the client's needs and the mall's requirements are in hand, the design team goes to work, submitting the design and a price quote to the client. At this point, notes Jim Palmer, "We know our kiosk design stands a greater chance of approval by the mall because we've already reached out and designed something around their own criteria."
After the client approves the price quote, kiosk construction can begin. That requires both engineering and production time.
By teaming up with experts right from the start, it's much easier to sidestep potential mall kiosk pitfalls that can delay or derail your project.
You can learn more about mall kiosk pitfalls in this in-depth interview with Michael Anderson, assistant vice president of leasing development for Macerich, one of the nation's largest owners of regional and community shopping centers. Or check out this detailed booklet from another property management company that describes their approval process for permanent and temporary mall kiosks.
It may seem more advantageous to focus on what to do rather than the "not to dos," but understanding common pitfalls in advance will help you keep your eyes open for bona fide opportunities, to get your new kiosk business off to a grand start.