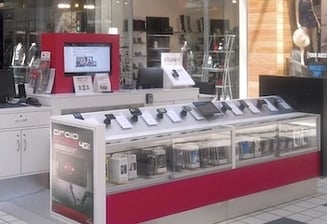 If you follow retail trends, you know department stores are suffering. Big names that have served generations are falling by the wayside. Their demise is causing upheaval at malls, which are in turn scrambling to reinvent themselves to retain – or resuscitate – shopper interest. What a great time to be a kiosk entrepreneur!
Kiosks are poised to do better than department stores
There are several reasons for that, but the key factors are agility and merchandise selection. Just as it's easier to maneuver a small boat than an ocean liner, mall kiosks enjoy the flexibility that comes with small size. The overall look and "flavor" of your kiosk creates a presence within the mall. Your kiosk must be able to:
Capture the attention of distracted mall visitors

Inspire potential customers to stop and look
With a lower investment in the physical structure of your mall kiosk, it's easier to change up visual displays – especially if your custom designed fixtures are modular and consistently branded. But it's the mall kiosk products you choose to sell that define your kiosk's personality and determine your success. With lower inventory investment and stock on hand, you can change things up quickly if sales indicate you should. Replenish hot sellers. Ditch non-sellers.
Learning from pop-ups
Pop-up stores are a hot new trend. You can find them almost anywhere, and they are helping transform declining malls. Kiosks and pop-ups have a lot in common. So understanding what makes these instant, temporary shops so popular reveals insight and ideas you can adapt to make your kiosk a must-visit destination, too.
For example, PopUp Republic CEO Jeremy Baras says customers love a sense of exclusivity. "They're attracted to a 'here today, gone tomorrow' type of concept." Beyond that, what draws pop-up aficionados?
39% want unique products or services

36% want local or "localized" products

34% want "value" pricing

33% appreciate the convenience

30% are looking for a fun experience
Sounds just like your kiosk, doesn't it? If not, it's time to rethink your merchandising plan, so you will be poised to succeed where department stores are faltering.
Hopefully, your mall kiosk will not be gone tomorrow. In fact, your reliable presence is the key distinction between your mall kiosk and those ephemeral pop-ups. You can capitalize on that difference. You know freshness is one of the things that keeps customers coming back. So why not give that freshness concept your own pop-up-style twist, by featuring special product selections that are "here now, but gone soon"?
Department stores are going the way of the dinosaurs because they weren't able to reinvent themselves fast enough to keep up with today's customers. Mall kiosks don't have that problem – or shouldn't. By keeping a sharp eye on shopping trends, you can make sure your kiosk is always stocked with must-see, must-have products. With that, you'll be continually poised to thrive.