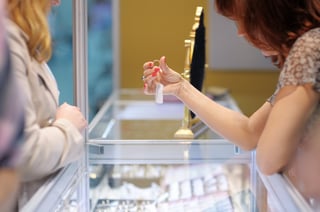 Spring and summer are often the seasons of romance. Many couples are getting engaged, others are shopping around for wedding bands for their upcoming summer weddings. Because rings are such a personal investment, couples want to shop up close and in person. They'll spend more time in your store if your jewelry showcases make your rings (and other items) sparkle brightly and look flawless.
Enclosed jewelry showcases accentuate value
Displaying items in enclosed showcases protects them from dust and fingerprints, so pieces always look their prettiest, and displaying them under glass emphasizes their value. Resist the temptation to show off your entire selection, though. Displaying fewer pieces exquisitely will attract more attention and give customers something to focus on.
Showcases can be wall-mounted, or they can be free-standing, eye-level islands, but cabinets with glass-enclosed counter-top displays are most common because they're most versatile. Customers gravitate to them for a closer look at the items inside, and employees can use the counter to show individual pieces. Handling potential purchases — examining them closely and trying them on — helps customers picture themselves wearing and admiring the jewelry every day.
Shiny settings and brilliantly winking stones are irresistible. They speak to customers from across the room, inspiring them to take a closer look. For that, you need lighting that is nothing less than spectacular. Good overhead lighting is a must, but light your jewelry from inside the case as well. Lighting from the sides adds the most sparkle and reduces shadows.
Here at Palmer Retail Solutions, we use high-efficiency LED lighting to illuminate our jewelry showcases. LEDs are unobtrusive, they burn cool, and they produce bright, natural light that brings out maximum glitter and radiance in every piece of jewelry.
Enclosed cases protect
The busier your store, the easier it is for prospective thieves to ply their trade. Jewelry is especially vulnerable because it's small and valuable. Adding keyed or combination locks to your showcases increases security. Store employees still have easy access to remove items for closer customer inspection without putting other pieces in harm's way.
Locking showcases are an excellent deterrent, but there are other steps you should take to protect your store and merchandise from theft. You can also increase security by replacing glass with acrylic. It offers all the benefits of glass, yet it's stronger and can be coated to resist fingerprints and scratching.
More than rings
Since this is typically the season for weddings, it's also the season for anniversaries. Don't forget to highlight gifts that say "I still love you," as well as items that could be meaningful mementos for bridesmaids or groomsmen. Not only rings, but bracelets, necklaces, earrings, watches, or jewelry boxes.
Palmer has the showcase solutions
Our experienced designers know how to create jewelry showcases that really shine when it comes to eye-catching displays, effective merchandise protection, and reinforcing your store's brand.
No matter what brings customers into your store, you want them to explore all you have to offer. With the right showcases, the right arrangement, and spectacular lighting inside and outside your displays, you can make this a summer a sales season to remember.