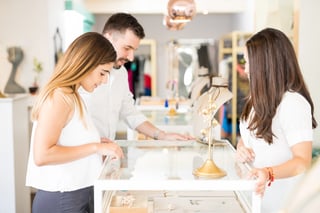 Jewelry is a perennial favorite when it comes to Valentine's Day gifts — representing a variety of emotions, from affection to lifelong love. So whether your store caters to the most sophisticated clientele or sells every day hand-crafted beauties, making the most of your jewelry showcases will bring you heart-warming sales this Valentine's Day.
Your window is your first-impression jewelry showcase
Eye-catching displays start selling before customers ever enter your store. You can go all-out with hearts as a backdrop in the requisite red and pink, or design your window using clear acrylic display cases so shoppers can peek inside your store to see more inspiring ideas.
Carry the theme inside
Custom acrylic showcases work beautifully as jewelry display fixtures throughout your store. They give shoppers a 360-degree view of the featured pieces. What's hot for 2017? Round, counter-height glass or acrylic fixtures that do double-duty. These stand-alone units create display islands that subtly lead customers around your store. Like traditional cabinet-style showcases, they also provide counters for your staff to also use for personalized, side-by-side customer interactions.
Valentine's Day may be a special ocasion, but it's really just a variation on your year-round jewelry merchandising plan – with an extra tug on your customers' heartstrings:
Make it easy for brand-conscious shoppers to zero in on their heart's desire, by devoting a showcase to each of your most popular brands.
Remember, love can blossom on any budget, so be sure your jewelry showcases offer a wide range of price points. But don't group items by price. Instead, position a higher end piece as a focal point, then surround it with related pieces. These could be matching collections that include bracelets, earrings, necklaces, rings and/or brooches. Or you could display an assortment a single item such as rings.
Grouping jewelry by color can be a fun display idea, if you don't overdo it. The natural choice for Valentine's Day is a showcase featuring pinks and reds -- offset, of course, by the timeless glitter of diamonds.
Sprinkle a few Valentine's heart candies or bright red cinnamon hearts in each of your showcases. These tiny decorations unify the look of all your jewelry showcases.
What else says "Valentine's Day"? Flowers! Accent your deeper or taller jewelry showcases with small, simple arrangements – a few mixed-but-bright blossoms, or just one rosebud or baby carnation.
Don't forget gifts for men!
Men are Valentines, too, and not every guy wants a new band saw or tickets to the Final Four for Valentine's Day. Set aside jewelry showcases that focus on HIM, with displays of bracelets, necklaces or watches. All your customers will appreciate the oh-so-appropriate gift suggestions, and who knows? Your male customers might decide to treat themselves to a little something, too.
Impulsively romantic to the end
And speaking of impulse buys, don't neglect these important sales boosters, especially at your cash wrap. Gift-able jewelry boxes, jars of quality jewelry cleaner and individually boxed chocolates or truffles are all thoughtful add-ons your customers will appreciate.