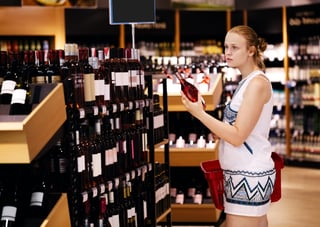 End caps are proven winners when it comes to increasing retail sales and profitability. In fact, studies repeatedly show that end caps sell better than in-aisle displays of the same product(s). That's because end cap displays are both easily accessible and convenient. End cap displays are also highly visible, but you can take some steps to make them even more so, and increase sales with your end cap displays.
In fact, in one shopper engagement study, individuals were asked about their buyer behavior when shopping at their local grocery store. Results showed that 44% of the participants remember fixating on the end caps and that almost half of the grocery stores were dominated by end cap displays. The study concluded that end caps are a smart and lucrative option for displaying products for both grocery stores and other retailers.
The more thought you put into your end cap displays, the more you can realize their full potential. Done right, they can help get your business out of a slump. It all starts with the right product.
What to display?
Focus on items customers already have in mind, or items that need a little extra sales help. And choose items with broad appeal, so you don't automatically limit shopper interest. High margin items are excellent, because they will move even faster, generating even greater profits.
Well-designed end caps place advertised specials right at hand, where shoppers can easily find and grab them quickly. They create product awareness among customers not specifically looking for these items and encourage purchases of related items down an adjacent aisle. Displays that include a few complementary products can be particularly successful because they encourage shoppers to buy multiple items.
Seasonal or holiday themed products are good because customers are on the lookout for them. You can move out end-of-season merchandise faster by putting it on an end cap rather than stashing it on the usual clearance table or rack, but well-timed displays that suit the season can kick things off and inspire more full-price purchases, too.
How to display it?
End caps can be freestanding, built-in but distinctly different from shelving units, or a seamless extension of the gondola. You can build your own or work with vendors to obtain "prefab" units.
No matter which you do, use these tips to turn them into powerful performers:
Signage should be big and bold, clearly visible from a distance.
Shape should be three-sided, angled, or curved, to take full advantage of 180° sightlines.
Use your store's thematic colors or create sharp contrast by focusing on the product's brand-specific color. With highly recognizable items, the packaging can produce its own obvious visual.
Place larger items lower, to visually anchor the display, and put smaller items closer to eye level.
Don't just assume your store's ambient light is enough. Creative use of specialty lighting can give end cap displays can't-miss eye appeal.
Once it looks just right, remove a couple of items. No one wants to be first and ruin your perfect display, whereas people will pick up some products for themselves.
When to display?
Move large quantities of special-purchase merchandise
Draw shoppers farther into your store, transition shoppers from one aisle to the next and provide an appealing "touch point" along the way.
Generate immediate interest in the latest merchandise arrivals.
Increase sales by making maximum use of valuable floor space at the ends of aisles.
Keep customers in the store longer, and up-sell them by showcasing complementary products within the end cap display, in an adjacent end cap or down the next aisle.
Reinforce a store-wide promotional theme with relevant merchandise, for holidays, heart-healthy month, etc.
Keep your store fresh-looking and exciting – customers are always interested in what's new and what's a great bargain.
Feature a particular brand. Depending on what type of products you sell, manufacturers can often supply fully branded, self-contained units with signage, shelving or racks, lighting, etc. all built in. All you have to do is keep it stocked.
Encourage customers to interact with your merchandise – sampling the salsa or spritzing a test of perfume. Incorporate a video screen for demonstrations or self-serve actions, or use a free-standing kiosk as your end cap, stocking merchandise below and to the sides.
The outstanding visual impact of end cap displays may be what catches someone's eye, but people will be even more likely to slow down and take a closer look if there's a chance to touch or taste the products.
Where should you put end cap displays?
The name says it all: at the end of every aisle. End caps should be at least the same height as your gondolas or other fixtures, whether tall as in grocery stores or below-eye-level as in apparel stores. You can design your own end caps to accommodate and highlight the products you plan to display, using traditional store fixtures or non-traditional tables, baskets, etc. You can build a wall-mounted display, or create a thematic "tableau."
For maximum impact, end caps should be 3-sided. Whether narrow or wide, the sides are especially important, because they catch the eye of shoppers coming down the aisle and lead them around to the front of the display, where they can take advantage of your special offer and then move around to the next aisle, perhaps to pick up some complementary products.
Finally, change displays frequently – weekly, monthly or somewhere in between, depending on the time of year, the merchandise displayed, and how frequently you see the average customer. Once they've seen the end cap a few times, it will start to lose its lustrous ability to grab their attention.
Palmer Retail Solutions strives to offer our clients the absolute best combination of innovation, quality, service, and value for our diversified custom store fixtures and merchandising displays. For more information about our designs, retail fixtures, cash wraps, kiosks, or point of purchase displays, visit our website at: http://www.palmerretailsolutions.com.