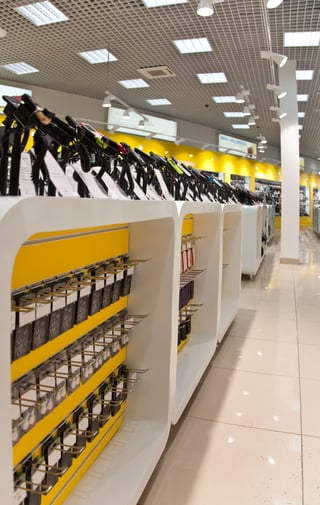 Smartphones and similar small electronics have changed dramatically in recent years. Surprisingly, though, the most successful merchandising tips for these products have not changed. More than ever, people want to handle the devices, to check them out in detail. It can be challenging for retailers to create an atmosphere that's visually appealing, hands-on friendly, and still keeps products secure.
Here's what you need to know.
10 Merchandising Tips for Selling Small Electronics
You want a look that says "lots of selection," not clutter. With so many small products, it's easy to visually overwhelm your customers. Instead, use your displays to create focal points within your store. Shelves, racks, endcaps, and wall fixtures can all come into play to show off smartphones and other devices, plus the wide range of accessories you probably sell. Wall units and racks are especially valuable for small items that do not need to be secured.
Tabletops, counters, and free-standing kiosks are great

for showing off smartphones and other devices that are popular theft targets. Use a product such as Palmer's CELLMATE that secures each product without restraining the customer's ability to handle and test-drive the device.
Use your brand colors

to create a strong visual impact and reinforce your store's identity. Incorporate props that reflect your storewide theme and show off your unique personality.
Ask your vendors about standalone displays

for smartphones or other small electronics, or branded props you can incorporate into your own merchandise arrangements.
Use each display to tell a story about that piece of equipment and accessories that go with it. Placing add-ons next to key items creates more visual interest, and it can greatly increase cross-selling. Displaying primary merchandise at various points around the store encourages shoppers to look around rather than simply zeroing in one item. Be sure to display easy add-ons as impulse buys at your cash wrap, too.
Display items at eye level. Between the waist and shoulders is ideal. If you carry children's electronic toys, put them lower so they'll be at a kid's eye level. They'll make sure their parents look down to see them, too.
Vary light levels, by using spotlights or colored lights to draw attention to featured products, sale items, etc.
Use printed or digital signage to highlight key product features, ratings, or reviews. For instance, all your smartphones are "smart," so what makes each one different? Digital screens can show short video demos as well as text or still images. Don't use too many animated displays, though, or they will compete with one another.
Change displays, or rotate them, every week or two.

That way, customers always know there's a new reason to come back. This is an excellent way to promote brand new items but also breathe new life into a slow-selling product, introduce a new seasonal theme, or call attention to your big sale.
Photograph your displays. And keep notes about which arrangements sell best. Pictures will help you easily duplicate the best sellers in the future, and knowing what didn't work will help you continuously improve your wireless and small electronics merchandising.
Using these merchandising tips will help you create an air of excitement that encourages shoppers to experience electronic devices for themselves and explore all the accessories and other products you have to offer, without sacrificing merchandise security or customer interaction.