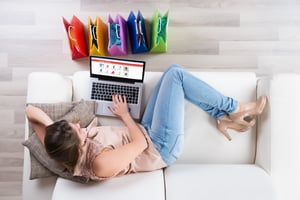 What's better than online shopping with delivery right to your door? In-store pickup. No one wants to wait days for their order when they can zip over to the store and have it waiting for them. The concept called "Buy Online, Pickup in Store" (BOPS) is extremely popular with customers and retailers, for lots of reasons. But if you don't do it right, you could alienate the very customers you're trying to impress.
Sadly, that seems to be the norm. One recent study revealed that half of online customers have had problems trying to retrieve their merchandise in-store. Retailers that can successfully implement a smooth, simple, consistent BOPS program stand to capture a significant competitive edge.
So, how do you succeed at providing online shopping with in-store pickup while also maintaining a great experience for customers who physically browse your store? That's actually a more complex question than you may think – one reason retailers risk poor execution. Among key factors you should consider:
1. Technology is critical
If online ordering and in-store stock availability aren't perfectly aligned, the entire system breaks down. With the right software, store managers can re-stock efficiently and accurately. Yet studies show that a mere 25% of retailers can identify inventory levels within their store at any given time.
For BOPS, you'll need fully integrated order/inventory management software that gives real-time visibility throughout your system.
2. On-site logistics must be convenient
Tempting as it may be to put your pickup counter at the back of the store, doing that will irritate customers who expect an in-and-out experience, not a hike through the aisles.
They don't want to hike through your parking lot, either. So consider offering a drive-up pickup lane or a few designated parking spots near the entrance. Be sure to use clear signage to direct pickup customers to the right spot. If you have multiple entrances, exterior signage that identifies the nearest door is also a must.
3. Train staff to facilitate the experience
Of course, employees should be fully familiar with your pickup policies and procedures. But train them to use their customer interactions to upsell by suggesting related items the customer may want to purchase, as well. The more you personalize customer relationships, the more they'll shop your brand first.
4. And while you're here . . .
What right-thinking retailer would turn away more foot traffic? Encourage shoppers arriving to pick up their merchandise to stay and shop more, with a use-now coupon or some other time-sensitive incentive.
5. Think your single-location store's too small?
Think again. Virtually every pizzeria out there thrives on quick-as-a-bunny pickup for customers who order online. Or by phone. You can, too, no matter what you sell — if you get creative.
Customers love BOPS because the shopping experience itself is more convenient and personalized and they can bypass the delivery fee by picking up in-store for free. Retailers love it because they can reduce shipping costs while raising brand reputation, customer loyalty, and in-store sales. It's a big win for everyone, as long as you consistently implement it well.